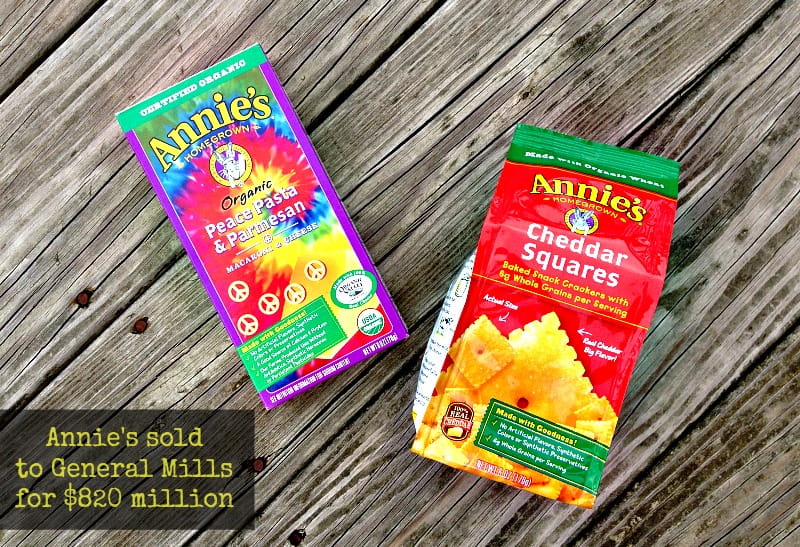 Yesterday, Annie's Homegrown, a leading organic ingredients food brand, announced that they have sold their company to General Mills for $820 million dollars. For those involved in food advocacy, this appears to be a betrayal. General Mills has dedicated millions of dollars to defeat the labeling of GMOs, which goes against the ideals that Annie's was founded upon.
Today, the Annie's Facebook Page is filled with angry consumers who are clearly not very happy with this announcement.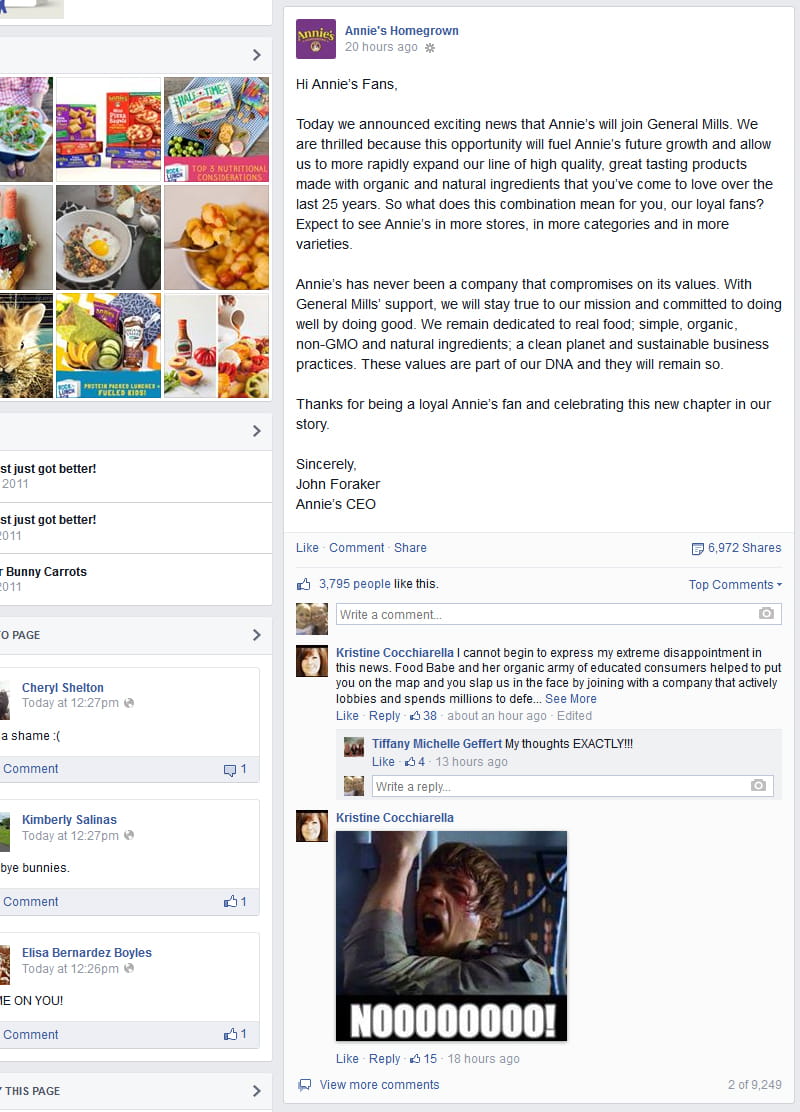 Annie's CEO followed up this discontent with another statement:
John Foraker
I want you all to know that our mission, culture, and values and the things we stand for will remain the same. We'll continue to make the same great products, more of them actually, using ingredients we are proud of, business practices that are respectful of the environment, and that make our planet a better place. We've spent 25 years building trust with consumers, one interaction at a time. We will continue to do that. Count on it. I always ask people to listen to what we say, but more importantly, watch what we do! We will not let you down! Our mission: We cultivate a healthier, happier world by spreading goodness through nourishing foods, honest words and conduct that is considerate and forever kind to the planet. that mission is hard won and has been built with integrity. We will never abandon it, but rather we will further it, by putting our product into millions of new homes, which will expand our positive impact even more. I have given 15 years of my life to that mission and I am not stopping now. Best, John, Annie's CEO
I am torn in how to process this news. My initial response, like many others, is that of feeling betrayed. It's easy to see Annie's as a sellout. To sell to a company that appears to oppose all of the values that Annie's was founded upon, the values that so many of us have come to trust, feels rooted in nothing more than monetary gain.
But maybe, if I set aside my emotional attachments, maybe they didn't sell out. Maybe what they did was strategically align themselves with a brand so powerful that Annie's can become more readily available. Maybe this will help lower prices and increase production of organic food products. Maybe it will mean more children will have access to foods without dangerous ingredients.
Maybe.
General Mills didn't get to be one of the most powerful food brands in this country and across the globe by not paying attention to consumer demand. They already own organic, non-gmo and fair trade brands. They know where people are spending their money. They also can create their flagship products without the ingredients food advocates speak out against – because they do in other countries.
Despite taking this personally and feeling a bit like a trusted friend let me down, I can see these "maybes" as not being too far fetched. The future of our food is in flux, and while grassroots efforts have made huge strides, there is still a very large awareness gap in this country. General Mills promoting organic food just might help bridge that gap.
What are your thoughts about this?
Join our newsletter!
Subscribe to get updates and great stuff via email including subscriber-only goodies like free printables and giveaways.