If you're looking to add a touch of luxury to your seafood repertoire, then look no further than abalone. With its tender texture and delicate flavor, this mollusk is a culinary delicacy that will impress even the most discerning palates.
Check out these 15 delectable abalone recipes, including the mouth-watering Abalone and Broccoli in Oyster Sauce, the flavorful Braised Abalone with Mushrooms, and the succulent Steamed Abalone with Oyster Sauce.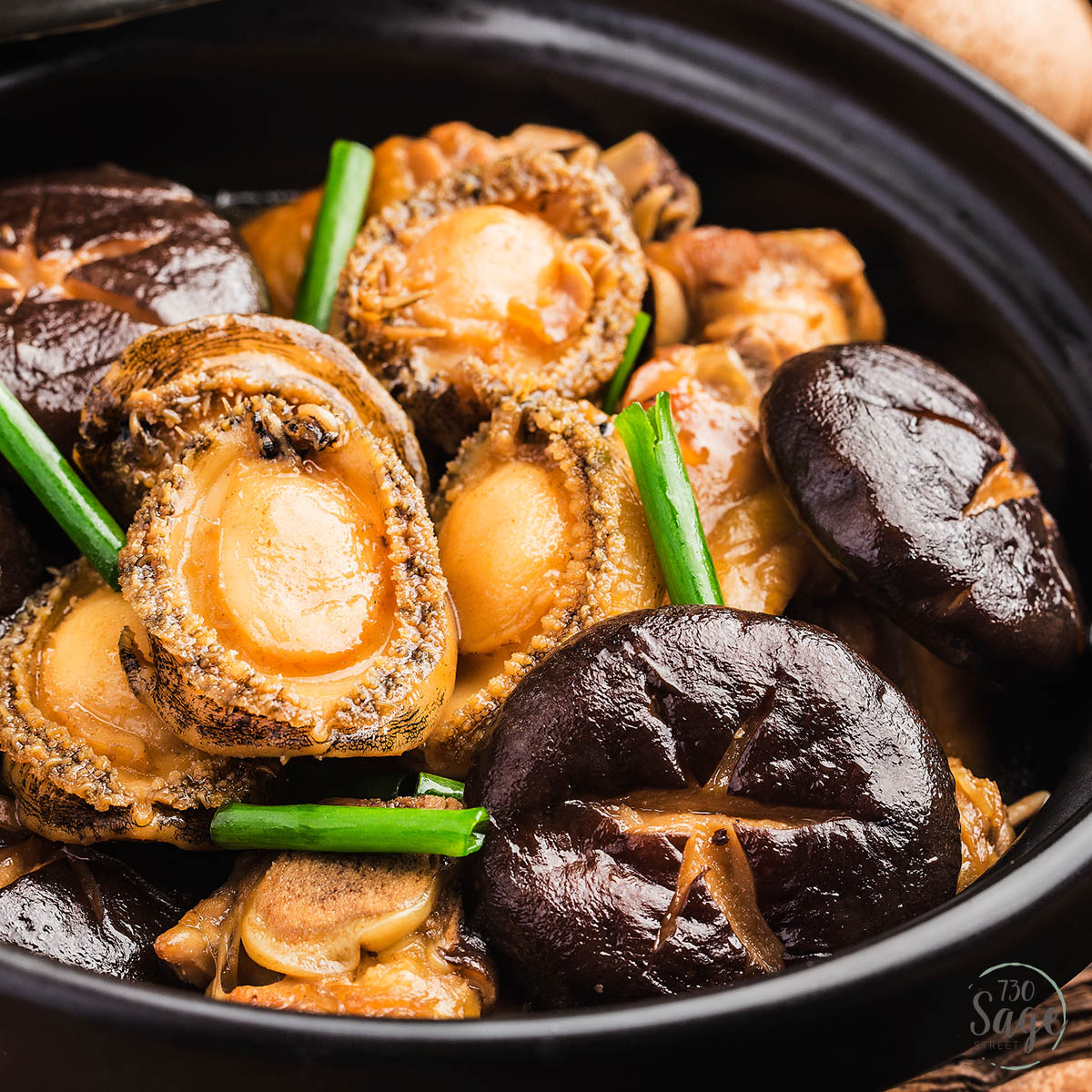 What Is The Best Cooking Method For Abalone?
Abalone is a highly coveted seafood delicacy that requires careful preparation to bring out its unique flavor and texture. Here are five cooking methods and their benefits and drawbacks:
Grilled: Grilling abalone imparts a smoky flavor and crispy texture. Overcooking can make it tough.
Stir-fried: Stir-frying abalone with garlic and ginger creates a savory, umami-packed dish. Overcooking can make it rubbery.
Sashimi: Serving abalone raw highlights it's a natural sweetness and tender texture. Requires fresh and high-quality abalone to be safe.
Steamed: Steaming abalone preserves its delicate flavor and succulent texture. Overcooking can make it rubbery.
Braised: Braising abalone in a flavorful broth results in a melt-in-your-mouth texture and intense umami flavors. Requires longer cooking time and careful temperature control.
Where Can I Buy Abalone?
Abalone can be found at specialty seafood markets or online. Check with your local fishmonger to see if they carry fresh or frozen abalone. If you're looking for canned abalone, you may be able to find it at Asian grocery stores or online. It's important to purchase abalone from a reputable source to ensure quality and freshness. Be prepared to pay a premium price for this highly-prized delicacy.
15 Recipes With Abalone
Elevate your seafood game with these 15 delectable abalone recipes that will leave you wanting more:
This Braised Abalone with Broccoli in Oyster Sauce recipe is an exquisite Chinese-style dish perfect for special occasions. The tender and succulent abalone is seared to perfection and then braised with ginger, garlic, and shiitake mushrooms in savory chicken stock.
The dish is then drizzled with a rich and flavorful oyster sauce thickened with a cornstarch slurry to give it a glossy finish. The blanched broccoli adds a touch of freshness to the dish, making it a perfect pairing for the tender and juicy abalone.
Braised Abalone with Mushrooms recipe creates a deliciously tender and flavorful dish. Rehydrated shiitake mushrooms and a blend of garlic and ginger create an aromatic base for the abalone to be braised in. Oyster sauce, salt, sugar, and chicken bouillon powder provide a savory balance to the dish, while Shaoxing rice wine adds a subtle hint of sweetness.
The abalone is cooked in the sauce for five hours, allowing it to become incredibly tender and soak up all the flavors. Serve over rice or vegetables for a satisfying meal.
The steamed Abalone with Oyster Sauce recipe is a simple and elegant way to showcase the delicate flavor of fresh abalone. After cleaning and preparing the abalone, it's steamed for just 8 minutes until tender and juicy.
While the abalone steams, prepare the oyster sauce by sauteing minced onions and garlic in a little vegetable oil, then adding water starch and oyster sauce until it bubbles. Once done, simply pour the savory sauce over the abalone and enjoy the flavors of the sea with the umami richness of the oyster sauce. Serve with steamed rice and veggies for a complete meal.
Made with only the finest ingredients, including crab meat, chicken, and abalone, this fish maw soup is the height of decadence. The chicken and abalone broth gives the soup a luxurious depth of taste that sets it apart from other similar dishes.
The soup's earthy taste is complemented by the shiitake mushrooms and wood ear fungus, and the chewy texture of the fish maw is a welcome addition. The soup may be seasoned to taste with dark soy sauce, salt, or light soy sauce. Cooking like a chef at home is as easy as serving hot food, seasoning it with black vinegar and white pepper powder, and topping it with abalone slices, chicken shreds, and fresh coriander.
This Pan-Fried Abalone recipe with Soy Glaze is an exquisite and flavorful dish that's sure to impress your guests. To start, the abalone is steamed and then stripped of any unwanted bits before being scored to allow for maximum absorption of the sweet and savory soy glaze. The ginger-infused sauce is made with soy sauce, sugar, water, maple syrup, rice wine, and guk ganjang to create a thick, syrupy glaze. The abalone is then pan-fried to give it a nice sear and a beautiful browned color.
The final touch is to sprinkle some finely chopped pine nuts on top to add a rich and nutty flavor. This recipe is a great way to enjoy the tender and delicate flavors of abalone, and the soy glaze adds a beautiful depth of flavor.
Sauteed Abalone is a simple, yet flavorful dish that will leave you craving for more. Unsalted butter, garlic, dashi, and lemon juice are sautéed with baby abalone to make a deliciously balanced dish.
To improve the abalone's chewability and taste, it is first cleaned and then sliced. Green onions, finely chopped, are used as a garnish for a bright final touch. Indulge in this dish as either an appetizer with some chilled sake or a main course for a pleasant supper.
Braised Abalone & Barolo is a luxurious Chinese delicacy that's now easily attainable with this recipe. Abalone is a high-protein and nutritious seafood that's known for its dense texture and ability to absorb flavors. To achieve the optimal gastronomic result, the whole abalone is first boiled and then simmered with traditional Chinese seasonings, resulting in a juicy and richly-flavored dish. The oyster sauce and soy sauce add depth and umami flavors to the broth, while the scallions and dried red pepper provide a spicy kick.
Serve the braised abalone on the shell and pour the thickened sauce over the top for an eye-catching presentation. This dish is perfect for those looking to indulge in a luxurious and delicious seafood meal at home.
Braised Abalone and Pork Belly is a Chinese delicacy that's rich in flavor and texture. The cubed pork belly is boiled with scallions, Shaoxing wine, and sliced ginger to achieve a tender and succulent texture. The pork belly is then fried until pork fat is rendered, and then coated with rock sugar to provide a sweet and caramelized flavor.
The quail eggs add a unique texture to the dish, while the Lee Kum Kee Abalone in Premium Oyster Sauce provides a rich and savory flavor to the broth. The XO Sauce adds a touch of spiciness to the dish, while the scallions add a fresh and mild oniony flavor.
Take a trip to Korea with Jeonbokjuk, a savory abalone porridge that will warm your soul. The creamy texture of the rice pairs perfectly with the tender chunks of abalone, which are delicately cooked to perfection.
Infused with sesame oil, this dish has a subtle nutty flavor, enhanced by the addition of salt or soup soy sauce to taste. Top it off with a sprinkle of sesame seeds for a crunchy garnish. Follow these simple instructions for a comforting and flavorful meal.
Warm your body and soul with this nourishing Abalone, Chicken, and Mushroom Soup. Slowly double-boiled with dried Polygonatum, wolfberries, and canned abalones, the tender and juicy chicken maryland absorbs all the flavors of the ingredients, giving it a delightful umami taste. Infused with the earthy aroma of shiitake mushrooms, this soup is perfect for a comforting meal on a chilly evening.
The addition of BRAND's Essence of Chicken and a pinch of salt balances the flavor perfectly. Follow these simple instructions for a heartwarming soup that is sure to impress.
Experience the rich and indulgent flavors of creamy abalone paua sauce served over fresh pasta. This recipe combines tender and flavorful paua mince with diced chorizo sausage, onion, and garlic, all simmered in a luscious full-fat cream sauce. The result is a velvety sauce that coats the pasta perfectly, delivering a decadent bite in every mouthful.
For an extra pop of color and freshness, add microgreens as a beautiful finishing touch. This dish is perfect for a romantic dinner or a special occasion.
This elegant side dish of braised abalone and broccoli in oyster sauce is fit for the most festive of occasions. The abalone is painstakingly cleaned, then cooked to perfection in a fragrant blend of ginger, scallions, garlic, and chicken stock until soft. The broth gets an additional dose of umami with the addition of shiitake mushrooms.
A fragrant oyster sauce is then applied to the soft and savory abalone, which brings out the abalone's inherent sweetness. Broccoli florets, which have been blanched and placed neatly, provide a welcome crunch to the meal. It's a beautiful and tasty meal because of how liberally the sauce is poured over the top.
Braised abalone with sea cucumber is a meal worth waiting for, as it will take your taste senses on an unforgettable journey. After the dried abalone and sea cucumber have been soaked and cleaned, they should be cooked in an eight-hour Ultimate Chicken Stock.
Serve the abalone and sea cucumber over a bed of blanched broccoli florets and sprinkle the thickened sauce over the top after they are cooked and have absorbed the stock's flavor. Relish the one-of-a-kind taste and feel of this gourmet treat.
Chef Takaaki Komagata's Abalone Steak with Liver Butter Sauce is a culinary experience. The dish's star ingredient is Ausab Premium Australian abalone, which is prepared here with a shallow diagonal cut and a sprinkling of salt and pepper. The abalone's liver is combined with unsalted butter and soy sauce in a bowl until smooth. The resulting sauce is exquisite.
Broccoli is fried and then boiled in the same skillet, giving it a pleasant crunch. Dive into the salty flavor of the sea with wakame and iwanori and brighten it up with some chopped spring onions. If you like seafood, you have to try this meal.
This One Pot Abalone Claypot Chicken Rice recipe is perfect for a satisfying meal that's bursting with flavor. Marinate the chicken in a blend of oyster sauce, sesame oil, dark soy sauce, and Hua Tiao wine for extra savory goodness. Pre-soak the jasmine rice and shiitake mushrooms for optimal texture.
Saute Chinese sausage and ginger in a clay pot before adding the chicken and rice. Pour in a delicious sauce made with dark caramel soy sauce, oyster sauce, light soy sauce, Hua Tiao wine, sesame oil, and sugar. Simmer for 20-25 minutes before adding in abalone and broccoli to finish off the dish. Don't miss out on this mouthwatering Chinese and Malaysian-inspired dish.