It's Spring and we all know what that means!
If you live in Indiana it means snow….*sad face*…
But enough of my pouting about the weather, spring also means spring cleaning! And if you are like me, you have a lot of stuff that you have kept around that really is just taking up space.
Sometimes it's just easier, however, to just leave the stuff buried in a closet than actually deal with it. Out of sight, out of mind, right? But what if I told you that removing the clutter can go beyond making your home cleaner and more organized? What if I told you that is can actually help your community?
Would that help kick start your spring cleaning a little bit?
It sure did mine!
I started in my son's room. He had 2 containers full of old clothes that we just kept pushing back and forth and avoiding dealing with. We ended up with 3 kitchen sized garbage bags full of gently used clothes that no longer fit him!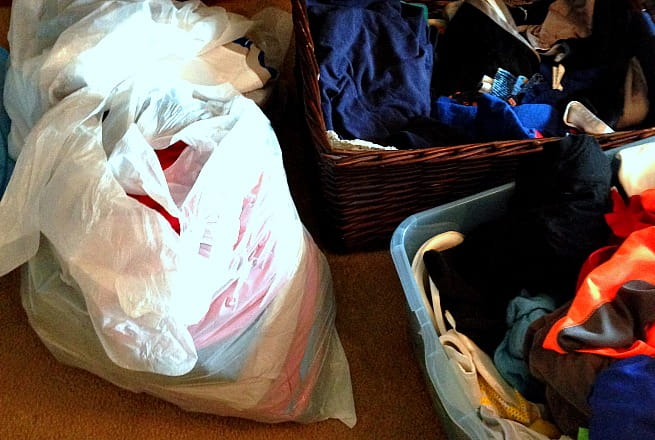 The video below shows you exactly how donating clothing and household items can create jobs in your community.
Goodwill has a calculator on their website that allows you to see exactly what impact your donation will have. Check out the impact my 3 bags will have, and that was just from one room. I probably have 4 times that throughout my house, I can't wait to finish up my cleaning.
The guide below will help you get started cleaning your home and helping to create jobs!
And below is a 7 day plan to help you along the way.
#7DaysofSpringCleaning
Day 1) Clear your closet clutter
Day 2) Time to tackle the kitchen
Day 3) Spread holiday cheer (holiday decorations, center pieces, Halloween)
Day 4) Downsize your tech toys (used laptops)
Day 5) Clean out your office supplies
Day 6) Provide quality entertainment (unused movies, video games)
Day 7) Downsize your bookshelf
So, how many bags do you think you will end up with when you are done?
Join our newsletter!
Subscribe to get updates and great stuff via email including subscriber-only goodies like free printables and giveaways.

This post was made possible through the support of Goodwill. All opinions are my own.