Looking for some excellent kids' books? Here are 7 Great HA Rey books from the author of Curious George.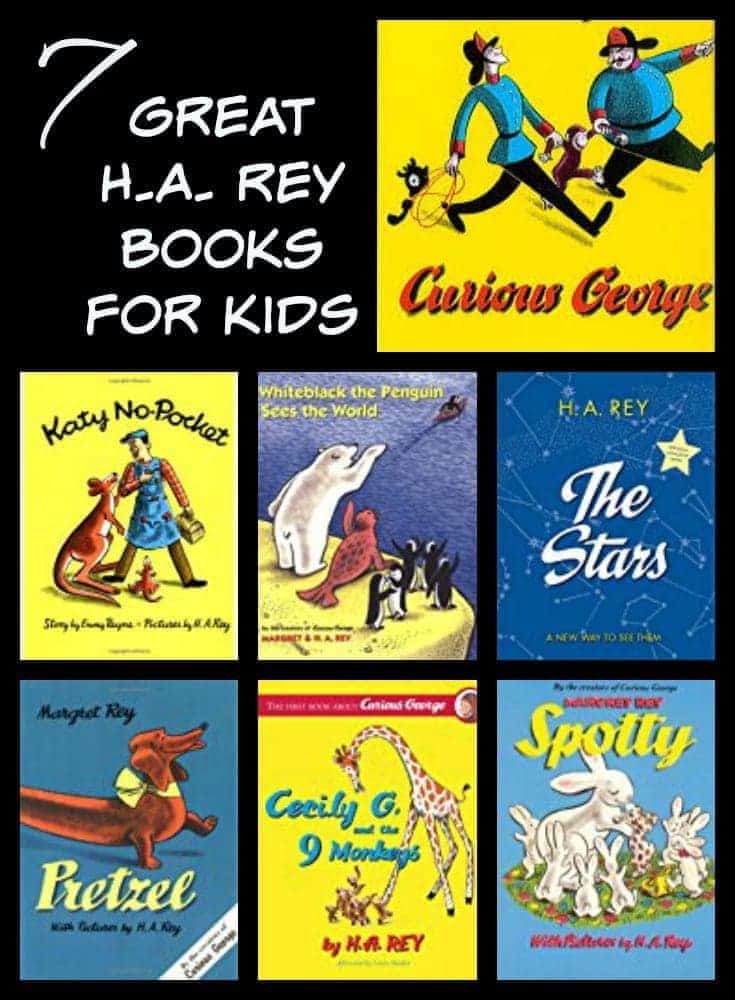 "This is George. He lived in Africa. He was a good little monkey and always very curious."
Ohhh, Curious George. I love George – don't you? And the Man with the Yellow Hat? A big giant goof, but so lovable. Curious George was an important part of my kids' early reading life. We began with Hans Augustus and Margaret Rey's original story, Curious George, followed by the six original George books. Next thing we knew, we had over half of the sixty-one "New Adventures" (written and illustrated by others but done in the style of Curious George). There's no resisting a four year old asking you to read a giant stack of George books. As a result, I'm quite the Curious George and H.A. Rey connoisseur.
Are you familiar with the story of Curious George's escape from the Nazi's? Sounds like a bad movie pitch, doesn't it? It's true, though. According to the Hougton-Mifflin website, the Reys lived in Paris during the 1930's. Seemed like a safe place for German Jews, until the Nazi's marched into Paris in 1940. H.A. Rey secured two bicycles (Frankenstein-like bikes made from parts, no less), and the couple pedaled out of Paris as the Nazi's were poised to move in from the other direction. They rode those bikes for four days across France to the Spanish border. Guess what was strapped to the back of those bicycles? The manuscript of Curious George and Whiteblack the Penguin Sees the World. Wow. Just wow.
The Reys' brilliance goes beyond Curious George, and here are seven great HA Rey books for kids that you should check out.
HA Rey Books
In this first children's book written by the Reys, Cecily G is a lonely giraffe who meets a family of monkeys. She has all kinds of fun and adventures with this group. Guess who belongs to this family? Curious George. Awwwww.
The Man with the Yellow Hat finds George in the middle of the jungle, and brings him back to New York. George's origin story.
Pretzel is a prize-winning dachshund. Prize-wining for his length – he's comically loooonnggg. Even though Pretzel is a celebrated pooch, he can't capture the heart of his true love Greta.
Repeatedly, Greta tells him, "I don't care for long dogs." But, Pretzel perseveres and in the end they get married. Best dog wedding ever!
Spotty is a white bunny with brown spots born into a family of all white bunnies. Sadly, the family is afraid that Grandpa Bunny won't like Spotty, and the story deals with Spotty's differences. I found the anti-racism message to be wonderful – we're all the same no matter what color. This sweet story is about being different and acceptance.
This is an interesting book that doesn't really fit in with the rest of HA Rey's books. It's a non-fiction book about constellations. Remember those constellation maps that look nothing like whatever they are supposed to be? Aside from the Big and Little Dippers, I have never been able to see the shape associated with the constellation. In this book, HA Rey provides great, realistic drawings to help you see the constellation's shapes.
Written by Emmy Payne, this book features HA Rey's lovely illustrations. Katy is a momma kangaroo that does not have a pocket, so she can't carry her baby. She goes on a quest to find a solution, asking all kinds of animals how they carry their babies. Eventually Katy finds a unique solution in this super cute book.
Whiteblack the Penguin is a DJ for Antartica's radio station, WONS (get it? SNOW backwards). When he runs out of stories to tell, he decides that he needs to travel and collect stories to share with his friends. Whiteblack is probably the most optimistic character in any children's book – who else would say "I've always wanted to be in an accident" when they land on an iceberg? The manuscript for this book was found after Margaret Rey's death in 1998, and first published in 2000.
I'm terrible at picking out a favorite book. If I pick one, then as soon as I think of another, it's "Ohhh! That's a good one too!"And so on, until I've listed twenty books. Even though all my kids are teenagers, I still love these books AND all the Curious George books. What's your favorite Margaret and HA Rey book?