Routine exercise can help your child sharpen their motor skills and strengthen their little hearts and lungs. The problem is actually getting them on their feet and active. If it feels too much like an exercise program, they may turn away from it.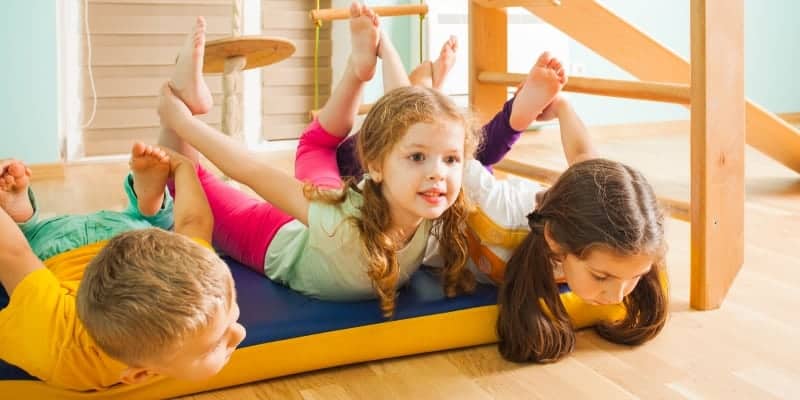 You've got to make it seem like a fun game. Have a dance party, play Simon says, and allow them to get in touch with their inner superhero are all great sources of exercise for kids.
They're easy to do, and your child will have a blast. For a few more great exercises for kids, check out these 7 Easy and Fun Exercises for Kids that feel like games.
Spell Your Name Fitness Activity for Kids (printable)
To begin, get out a dry erase board and have your child spell out their full name. For each letter of their name, there will be an assigned exercise to go along with it. If you're trying to teach them a few new words, then you can use those instead of their name as well. Each name or letter will count as a complete set. Allow for them to take a 60-second break or so in between each set. If you want to do it along with them, check out this more name version of the exercise.
Corners
Divide your children up, so everyone gets to have their very own corner. Once everyone has picked out their corner, instruct them to run in circles around the room. When you call time, the children will run back to their corner and do a simple exercise.For example, three jumping jacks or four push-ups. It's important that you let your children decide which exercise they want to do in their corner. That will sort of give them some control over their game and make it fun for them.
Traffic
Traffic works sort of like red light green, light but with a few extra steps. You'll still have your kid stop or go like in red light, green light, but you'll also instruct them to move side to side for a yellow light or hop to signify road bumps.If you want them to get some sort of social interaction during the activity, let them link arms with you to "carpool". These are only a few examples of what you can cue them to do. Don't be afraid to get a little creative.
Have a Dance Party
Dancing is so much fun, and it will let your children get in their daily dose of cardio. Move all the furniture in your living room to the side to give them space and start-up a dance playlist. Youtube and Spotify work great for this.They'll dance for hours without realizing that they're actually exercising. Don't be afraid to get on the dance floor with them. It's more fun to goof off and dance the night away if you're doing it with another person.
Commercial Break
The average commercial break is around four minutes long. That's plenty of time to get a little exercise in. Cue them to do simple workouts like squats and jumping jacks until the show comes back on. If you want to, you can give the exercises goofy names that have something to do with the cartoon they're watching. It might get them a little more involved. You can also us this Simon Says workout printable to make it easy.
Simon Says Workout (printable)
Again, children respond much better to exercise if you make it into some kind of game that they can play. Simon says is the perfect game that you can incorporate into their fitness routine. There's a free sheet you can download that has a lot of great workout ideas that you can cue them to do during the game.They'll have so much fun playing that they won't even realize that it when you make fitness into a fun game.
Cone Drill
Children need to develop their footwork. Doing so will help them in their development of body control and awareness. Set out a line of five cones or so into an easy footwork pattern.Instruct them to run through the course forward and back before you change it up. Short bursts of exercise like this are important because it can keep their attention better than long jogs.
Encouraging Exercise for Kids
Being physically active will help a child develop their motor skills and keep them healthy. Getting them to actually participate can be a bit of a struggle, however, unless you make a little game out of it. Try out some of these fun and unique ways to encourage exercise for kids and get your little ones up and moving around.
Your children aren't the only ones that need to keep up with their workout routine. Check out this spell your name workout that will really get you moving.
Beyond fitness, nutrition plays a vital role in our overall health. These recipes and naturally healthy and easy to make for the whole family.
Printable Fitness Resources