This post, 5 Ways to Add Curb Appeal to Your Home, is sponsored by James Hardie. Opinions are my own.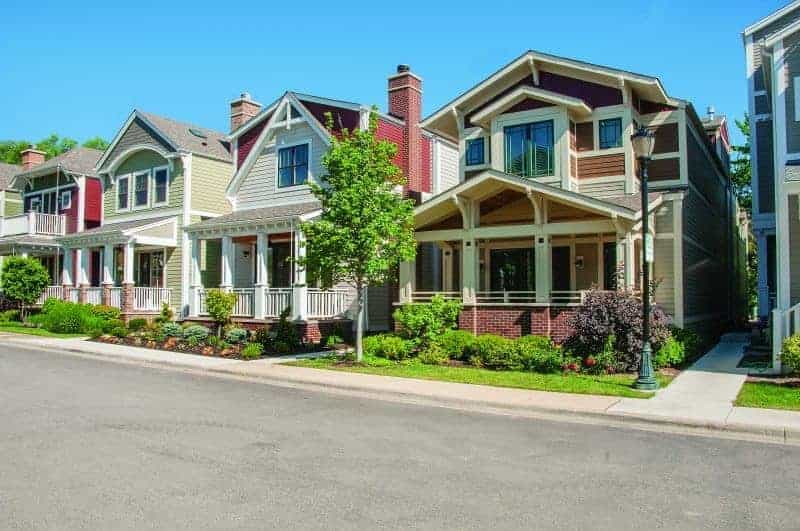 Sex appeal – you either have it or you don't. But, what about curb appeal? For your home, not you. (That's a whole different kind of post.) Yes! You can have curb appeal, but you'll probably need to make some changes to your home to get it.
Curb appeal is super important if you're trying to sell your home. Buyers will often drive by a home before they decide to schedule a viewing with a real estate agent. If it doesn't look good from the outside, it's probably not going to be much better on the inside. So, no curb appeal = no viewing. And, your house sits on the market.

MY LATEST VIDEOS
Curb appeal is important even if you're not trying to sell your home. Who wants to live in the dumpiest house on the block? Or in a cookie-cutter house that looks just like every other house in the entire neighborhood? We're all about individualism, so make your home stand out from the crowd. Give it some love and rack up the curb appeal.
5 Ways to Add Curb Appeal to Your Home
1. Add Accessories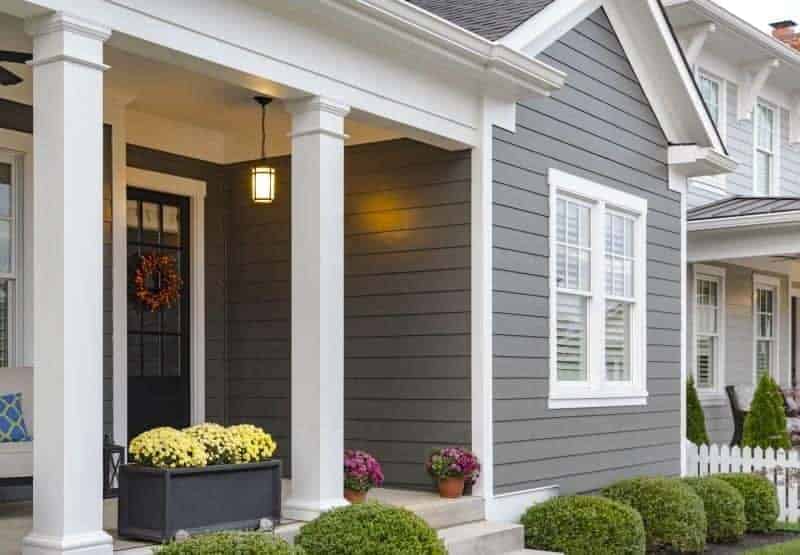 Adding plants, furniture and decorations to your home's entry is the easiest way to add curb appeal. Pick furniture and planters that are simple shapes and neutral colors which complement your house color.
In the picture above, notice how the planter is a simple black box (it plays well off the dark grey siding) and the chair behind the post is white. Both are neutral and have simple shapes. They add interest without screaming for attention. Too many "screamers" and your house just looks cluttered. Keep it simple.
You can add bright seasonal touches – wreaths, flowers, pillows and decorations to layer the interest and up the curb appeal.
2. Add Landscaping

Landscaping is a bit bigger project to add curb appeal, but certainly something most people can do. Use landscaping to highlight the entry. There should be a very clear path to the front door.
In this picture, even though the house is asymmetrical, the landscaping around the porch is symmetrical because that part of the house is symmetrical. In order to balance the entire house, they planted the tree on the left and the little red tree behind it. The landscaping really complements the house and gives it more curb appeal.
Take a look at your house. What plantings can you add to give your home more curb appeal?
3. Add Color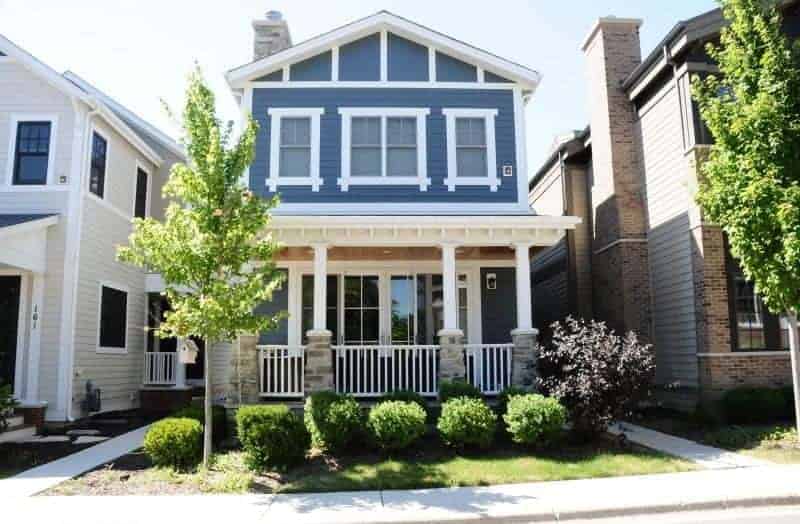 Adding color to your house is another easy way to add curb appeal. Especially if you live on a street filled with houses covered in beige vinyl siding. Blech. Not much curb appeal, is there? Look at this cute little house – it catches your eye because of that bold blue and white color scheme.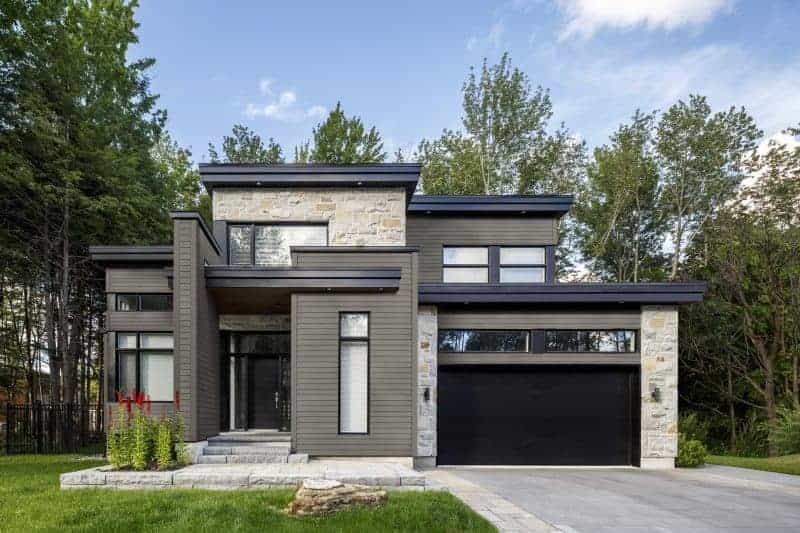 I love the way color blocking was used on this house. While it isn't a typical house, it does have lots of curb appeal. Curb appeal comes in all kinds of "flavors". It's such an interesting looking home – I want to see inside!
My house is mostly brick, but if I had siding and was looking to increase curb appeal, I would use James Hardie products in a heartbeat. James Hardie siding looks like traditional wood siding, but is a fiber cement manufactured product.
You get the look of wood, without all the problems. It's non-combustible, won't melt in a fire (vinyl siding will!), is rot and termite resistant, resists shrinking, swelling and cracking, and has a 30 year warranty. Most importantly, the color is applied in multiple coats and baked in, so it won't fade, chip, peel or crack. If you've ever had to scrape wood siding before painting it, you know that getting a product like Hardie siding is worth its weight in gold.
Now that we've talked about the technical stuff, let's create some curb appeal using color. Go to Hardie's Home Color Tool. Enter your zip code and you'll get a color palette that reflects your geographical location. Next, choose a main body color and your home's style. You can then play around with color schemes for wall color and trim. They take the guesswork out of using color to increase your home's curb appeal.
4. Add Interesting Siding Designs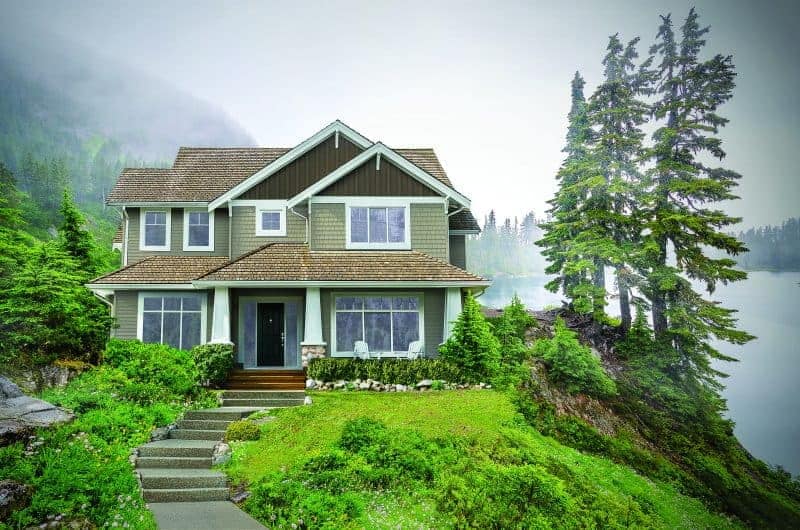 Curb appeal is all about adding visual interest, and using siding in different styles definitely does the job. James Hardie siding comes in three main styles – horizontal lap siding, shingles, and vertical siding. Each style of siding comes in several different textures. Both the lap and vertical siding are available in a wood texture or smooth faced. They even have a stucco-look vertical siding.
Combining these different styles can really change the look of your home. For example, this house used all three to create a Craftsman style: lap siding on the first floor, shingles on part the second floor, and vertical siding on the gables. The color scheme is perfect for its setting.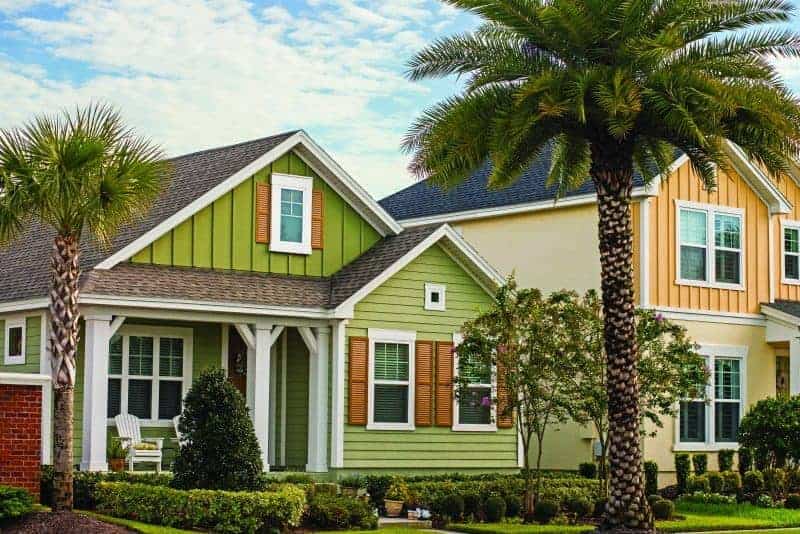 This cute little house used two styles of siding – horizontal lap and vertical. And look at the neighbor who combined vertical siding with stucco. These two certainly don't belong on the street of boring beige houses. You can see how using different styles of siding really adds to curb appeal.
5. Add a Porch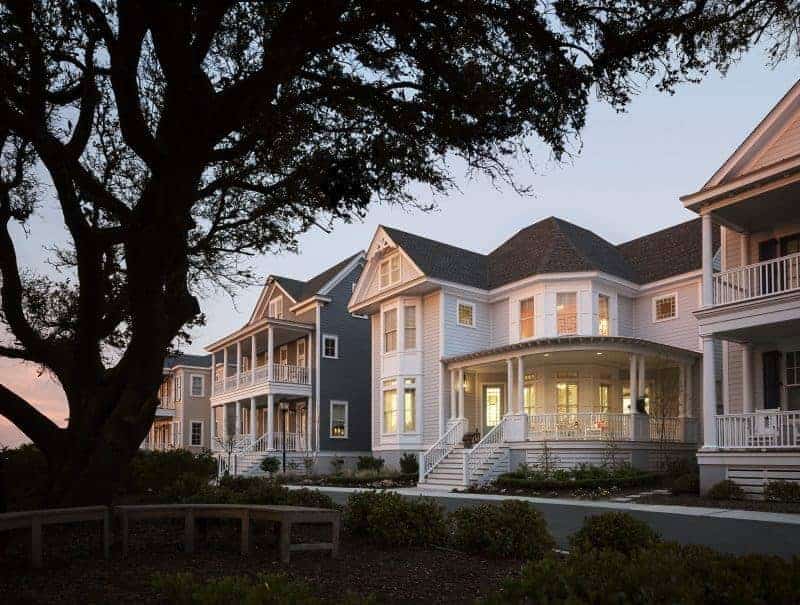 Adding a porch is definitely not an "easy" way to add curb appeal, but it probably makes the biggest impact. In fact, almost every house in this post has a porch. I think it's safe to say: porches = curb appeal. A new porch doesn't have to be big, or fancy, or complicated. It just needs to complement the style of your home, have nice details (columns, railings, etc.), and look like it's part of the house and not just tacked on.
In the picture below, the porch has been really simplified but it looks very nice because of details like the paired columns and the trim work above the windows. A new porch can make a big difference.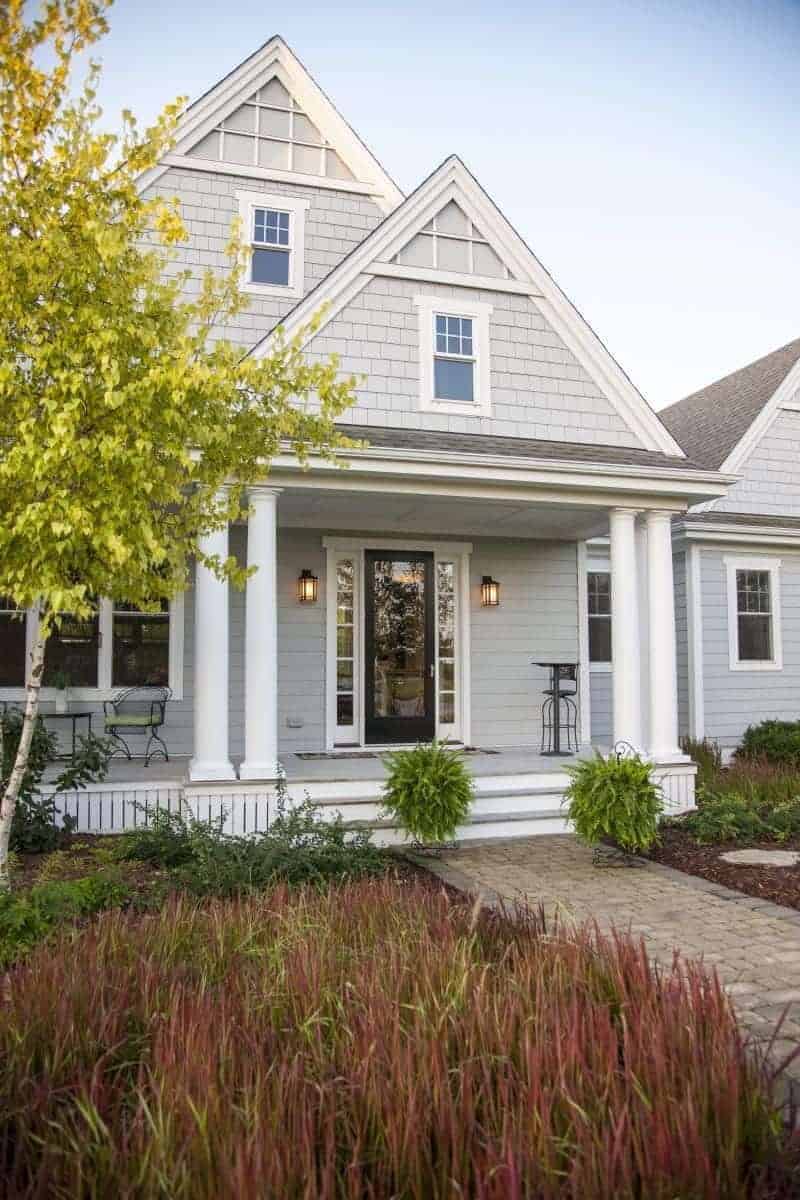 If you're looking to add more curb appeal to your home, visit James Hardie for inspiration and design ideas. Or, if you've already decided to add new siding, get samples at https://jameshardie.com/Forms/Request-a-Sample
Remember these amazing benefits of James Hardie siding:
Longer lasting finish and color
Hundreds of color combinations
Multiple profiles, textures and widths
Lower maintenance than wood, but with the look of a handcrafted wood product
Engineered for varied climates which means less maintenance
Resists humidity, moisture, mold, etc.
Non-prorated warranty with 15 years for trim and 30 years for siding
15 year finish warranty
Backed by the Good Housekeeping Seal
What does your house need for better curb appeal? I'd love to hear from you!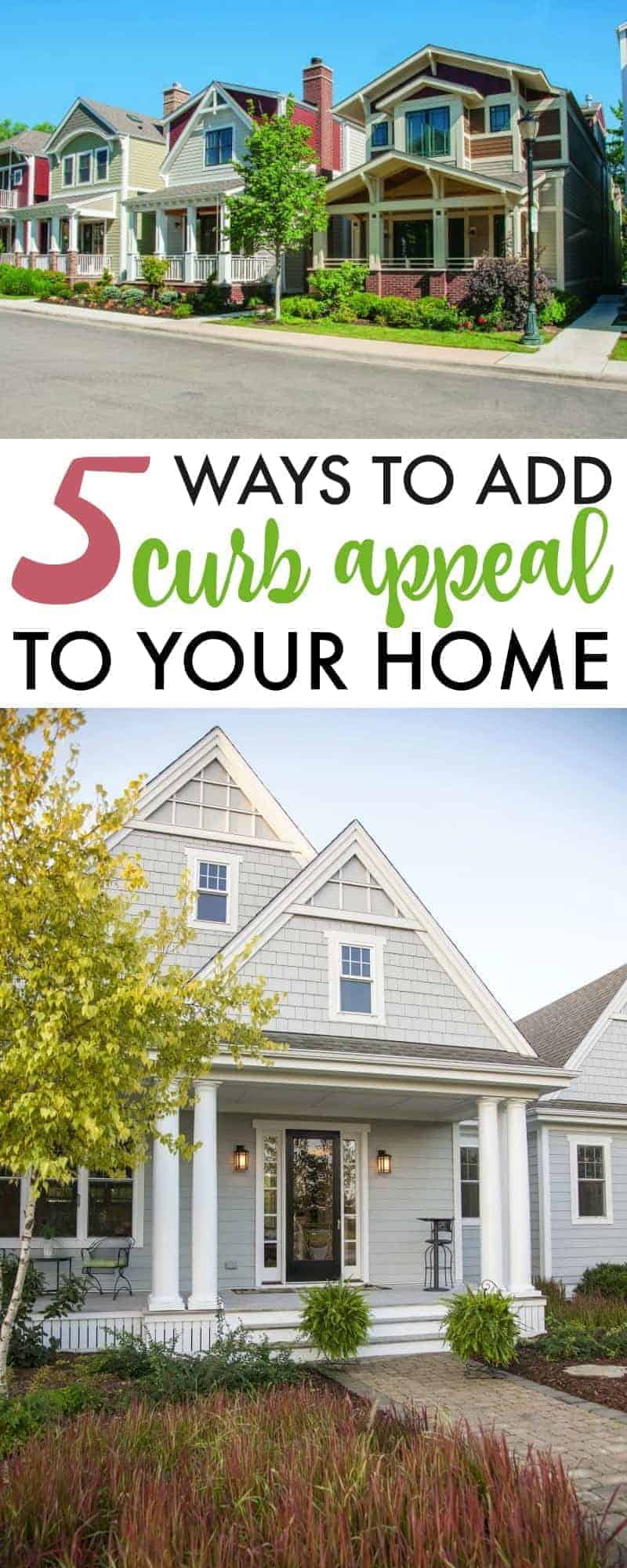 All images are courtesy of James Hardie.