Last week, we dropped our oldest off at college for her first semester. The transition from high school student to college student can be difficult. Things like new found freedoms and responsibilities, higher academic expectations, and really hard classes can make the transition rough. It would be great to get advice on doing well in college from someone that knows a lot about this transition. Luckily, her dad is a veteran instructor with 20+ years of dealing with freshmen students. So, while she has heard this advice her whole life (and hopefully remembers it!), I thought I would share it with you.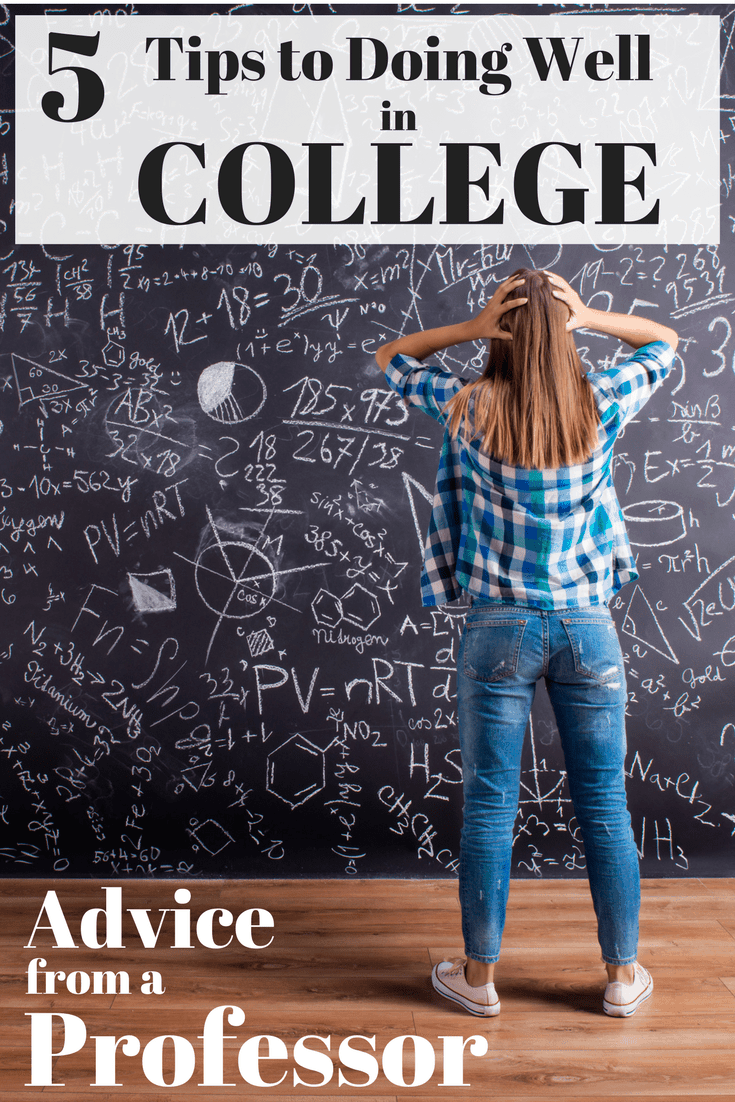 Doing Well in College – Advice from a Professor
My husband is an instructor at a large university, specializing in teaching chemistry to science and engineering majors. Here is my recent "interview" with him.
What is the demographic of your typical student?
The class that I generally teach in the fall consists mostly of 18 year old, first year college students interested in chemistry or a related field. They are generally at or near the top of their high school graduating class and scored in the top 3% on national standardized tests (ACT/SAT). These are very academically successful students.
What is your typical class size? What's the biggest class you've taught?
In my first semester chemistry course for majors, there are between 200-300 students. But, I have been in charge of a mainstream general chemistry lab course which had an enrollment of 2,500 students.
What causes the most trouble for students in the transition from high school to college?
All of the students that the university accepts, and especially the students in my course, should be able to succeed. That's why the university accepted them. My course is not a "weed out" course; that is, we are certainly not trying to get rid of students. On the contrary, we do everything we can to help them succeed. But, the problem is, they need to do most of the work themselves in order to succeed.
There are two main things that I see causing the most problems for our students. First, the students do not always take ownership of their education. Secondly, and related to this, the students often have poor time management skills.
What do you mean by "taking ownership of their education"?
Students need to realize that they are ultimately responsible for their learning. They own it. For example, in my class, I do not take daily attendance in lecture. I do my best to make the lectures useful to the students and worthwhile to attend, but it's their decision whether to show up to class.
Also, I assign textbook reading along with homework problems at the end of each chapter. But, because of the class size, I don't grade the homework like the students are used to in high school. Again, it's their decision to do the work or not. I give them academic freedom, but it's their responsibility to do the work.
You also mentioned time management as a problem of new college students. Can you expand on that?
As I mentioned, these students were very academically successful in high school, but high school can be very regimented for students. Essentially, every hour between 8am and 4 pm, they are told where to be and often times told explicitly what to do.
Notice this is forty hours a week. On average, college students take class loads of about 16 hours, which usually corresponds to being in class for only 16 hours each week. It could be a little higher with a lab course, but probably no more than 20 hours. That's roughly half the time that they spent in class during high school. That's because we expect them to do more on their own.
This goes with the ownership that I was talking about, but leads to time management problems, because students often don't use that extra time that they didn't have in high school to study. For example, a student might have three classes in one day: a 9am, a 10am and a 3pm. So, what did they do between the end of the class at 11am and 3pm? There are four hours, and even with a leisurely lunch, they still have 3 hours. In my experience, most students don't use that time to study. It's very easy for that time to disappear while talking with  friends, binge watching, or on social media.
Additionally, students are used to only studying in the evenings. But now they have much, much  more work. If they wait until the evening, they end up staying up late, which leads to sleeping in and perhaps skipping a morning class. At this level, skipping a class is not a good idea. Once this cycle starts, the student digs themselves deeper and deeper into a hole.
You mentioned skipping class. Surely, there's not much harm in skipping just one class?
Unlike high school, students find out pretty quickly that, in many of their classes, they are able to skip class without immediate consequences. This goes back to the idea of ownership – they need to think long term. Many classes only meet two or three times a week, and the pace of the courses are much faster than in high school. Even skipping one class could be the equivalent of skipping a week in high school. It's also easy for skipping class to become a habit.
How much time should a student expect to spend studying outside of class?
We generally say to multiply the class' credit hours by 3 or 4 depending on the course. So, for every hour you spend in class, you should spend 3-4 hours per week studying outside of class. As I mentioned, since an average load is 16 hours, that means you should be spending an average of 50-60 hours outside of class studying. This is 7-8 hours a day including the weekends. Students should view college as their full time job. Taking ownership of their education and time management are crucial.
What should students do if they need help?
In my first lecture, I advise the students to come by my office hours in the first week, even if they have no questions. First, they know my name and my office location. Secondly, this breaks the ice and they are more likely to come back if they have a question or problem. If the first time they come to see me, is four weeks into the semester and before the first exam, they are less likely to actually come. This again, goes back to taking ownership.
Students will find that there are a lot of resources, but unlike high school, the student has to take the initiative to use those resources.
What are your top five tips to doing well in college?
I would say:
Take ownership of your education
Manage your time – especially during the day or in-between classes
Go to class
Plan on spending  3-4 hours studying for every hour that you are in class
Visit the instructor's office hours during the first week of classes
I really wish I had known some of these tips when I was a freshman. Daily afternoon naps probably wasn't a good strategy. Now that you have this great advice, use it! Good luck with the new school year!!