This post, 5 Simple Steps to Revitalize Your Bathroom with A'Vant Vanity Surfaces, is sponsored by VT Industries. Opinions are my own.
The decor of my house has been a long standing joke. When we bought it, the house was stuck in the 1970's. It had all the hot design trends: avocado green counters, dark wood paneling, chocolate brown trim, faux beams, shag carpet, and burnt orange wallpaper.
The hall bathroom was probably the worst offender. Besides the "Harvest Gold" sink, toilet and matching shower, it has an odd layout. We found a pair of brown swinging saloon doors (yes, you read that right!) in the attic. At one point, my home had swinging saloon doors between the toilet and the vanity of the main bathroom. The 70's, man.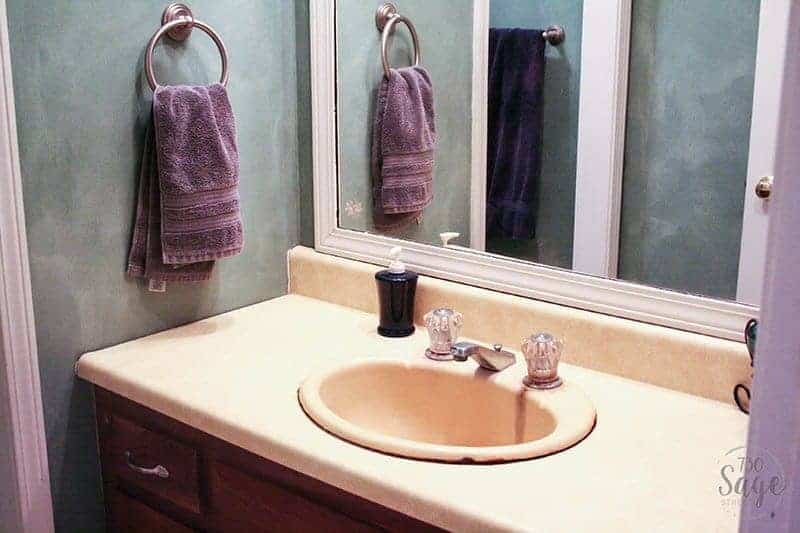 Over the years, we've slowly remodeled the house and removed most of the 70's stink. Except the hall bathroom. I know how much work is involved in remodeling, and that it will ALWAYS take three times longer than you think.
The thought of making all those decisions and coordinating installations is overwhelming. Adding a remodel to an already busy schedule wasn't something I wanted to do. Finally, in a family of five people, every bathroom is crucial; putting one out of commission for even a few weeks can be disastrous. So, I procrastinated and did nothing.
Lately, I've been thinking about renovating this bathroom in steps rather than doing a complete all-at-once-gut-job. Focusing on just the vanity area would be a manageable project. Besides, I can always put those saloon doors back up and hide the unfinished side.
Today, I'll walk you through 5 simple steps to revitalize your bathroom, and maybe you'll see that this approach could work for you.
The vanity cabinet itself is nice; it matches all the cabinetry in the house. I know natural wood cabinets are not "in" right now, but I really love our cabinets. So, I'm going to keep the vanity cabinet itself.
If your cabinet is in good structural shape, but you just think it looks dated, then refinish it. There are lots of tutorials online about painting cabinetry, and you have more options for your cabinet color. Plus it's a whole lot cheaper than buying a new cabinet!
5 Simple Steps to Revitalize Your Bathroom with A'Vant Vanity Surfaces
1. Replace the Vanity Top
Replacing an old vanity countertop with one made of solid surface is a simple way to revitalize your bathroom. Just take a look at the images below. They are all A'Vant Vanity Surfaces, but they make such different style statements: modern, rustic, vintage, cottage, traditional and contemporary.
A'Vant offers solid surface vanity tops in 15 on-trend colors (visit A'Vant for color selections). No matter the style or color, these countertops will definitely bring new life to your bathroom.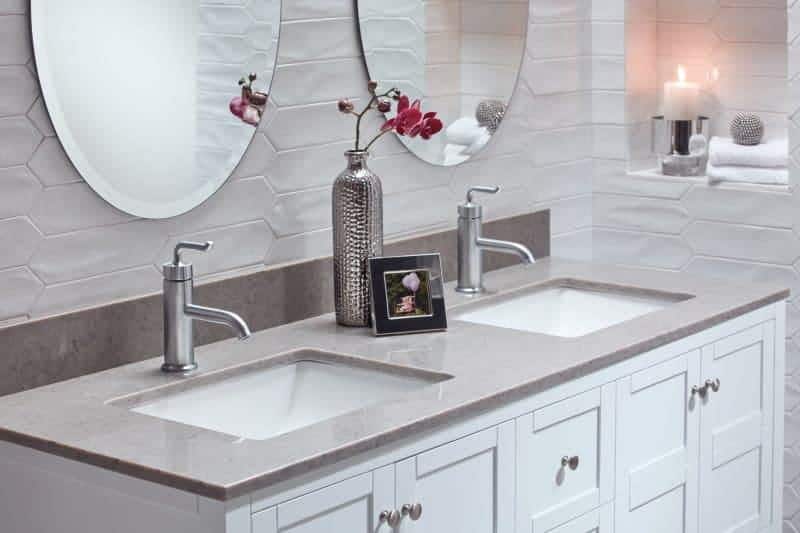 Geoscapes Quartz – Elara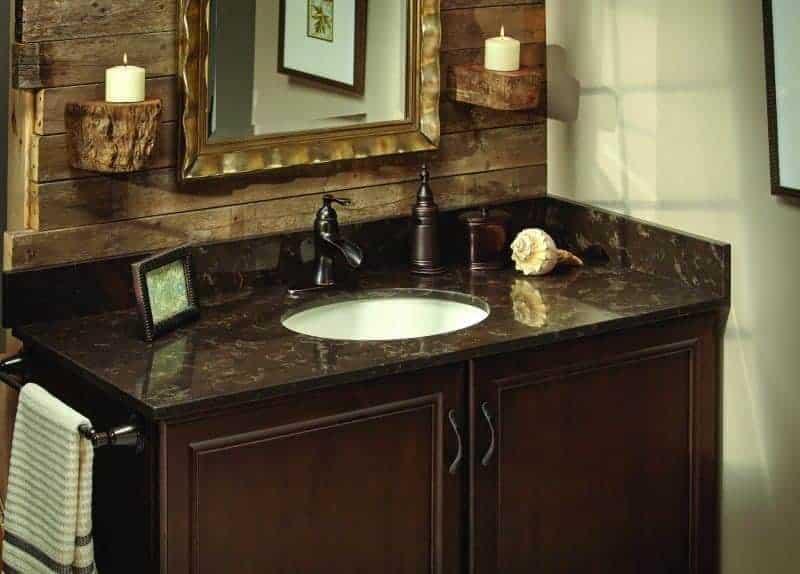 Geoscapes Quartz – Kodiak
Now, I'm sure you're thinking, "Yeah, changing my vanity countertop is 'simple'. Ha!" But, in this case, A'Vant can really help simplify the remodeling process. They offer "consistent, nationwide delivery, custom and standard sizes available, and sink options to create the perfect sink pairing."
In other words, you can get a new counter and sink that are compatible, from one source, no matter where you are. This reduces the frustration of buying the right sized vanity top, buying a sink and countertop that may or may not be compatible, coordinating cutting the hole in the counter with the sink and the mess of cutting the hole.
That makes this product perfect for the DIY'er, or for anyone that wants to tackle a bathroom remodel a little at a time. Using A'Vant really is a simple step to revitalize your bathroom.
2. Replace the Sink
A new sink is definitely in order. I really like the clean and sleek look of A'Vant's rectangular undermount sink in the image below. Cleanup is so much easier with an undermount – there are no nooks and crannies that need to be cleaned.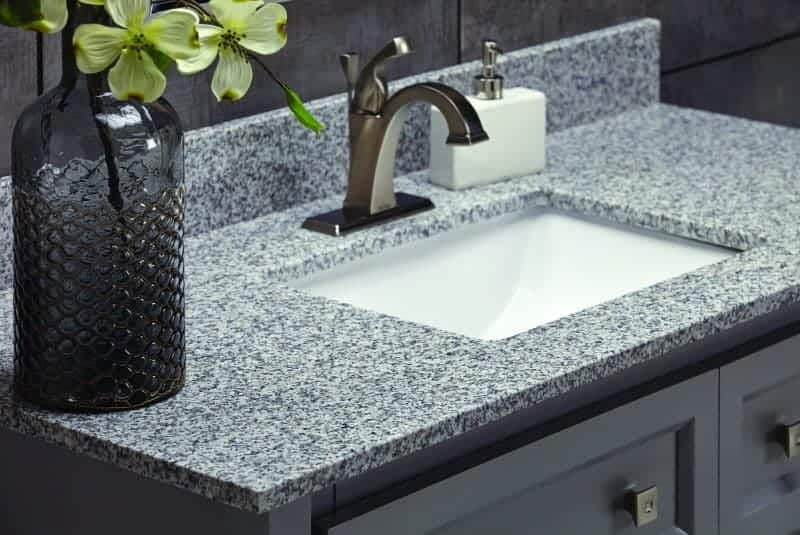 Geoscapes Granite – Meteorite
3. A New Faucet
The faucet is another important element in defining the bathroom's style. Along with the countertop, the faucet is one of the most noticed things in the bathroom. Especially a cool one like this. Although, it does make me feel like I should rinse and spit.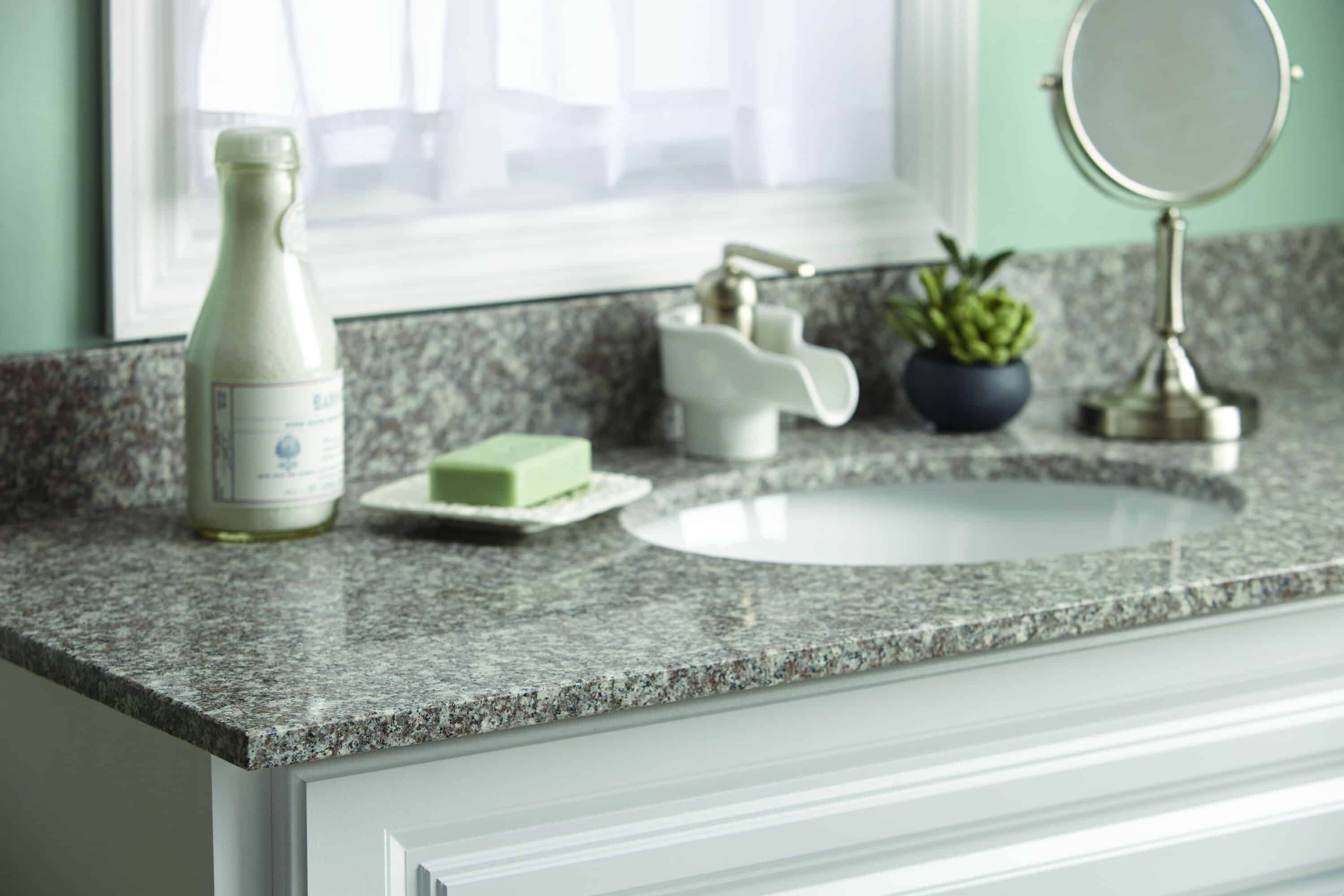 Geoscapes Granite – Burlywood
4. New Cabinet Door Hardware
This is a really quick and simple way to update the bathroom. It will probably take longer to pick out new hardware than it will to install it. Check out the cute door handles below. I recommend matching the finish of the door hardware to the faucet finish for a more coordinated look.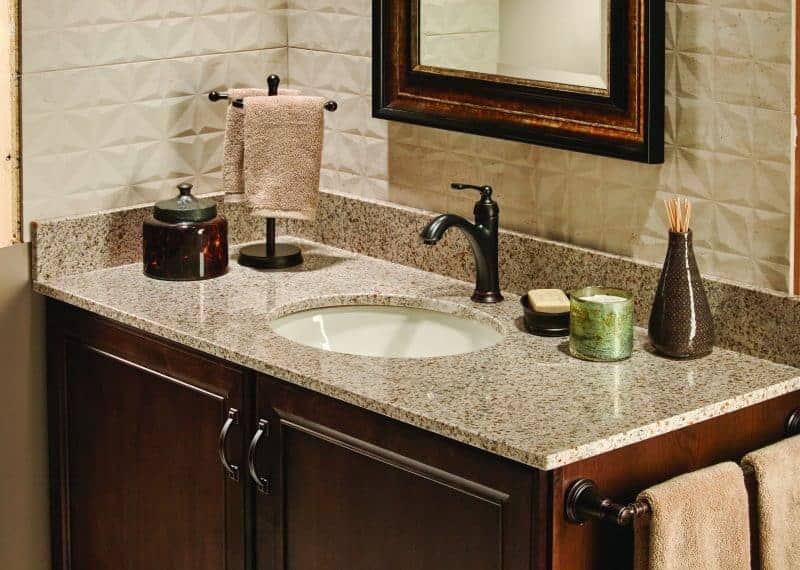 Geoscapes Granite – Wheat
5. New Accessories
I like an uncluttered counter like the image below. I don't always have one, but that's the look I like. Add some nice towels, a few accessories, and you're done.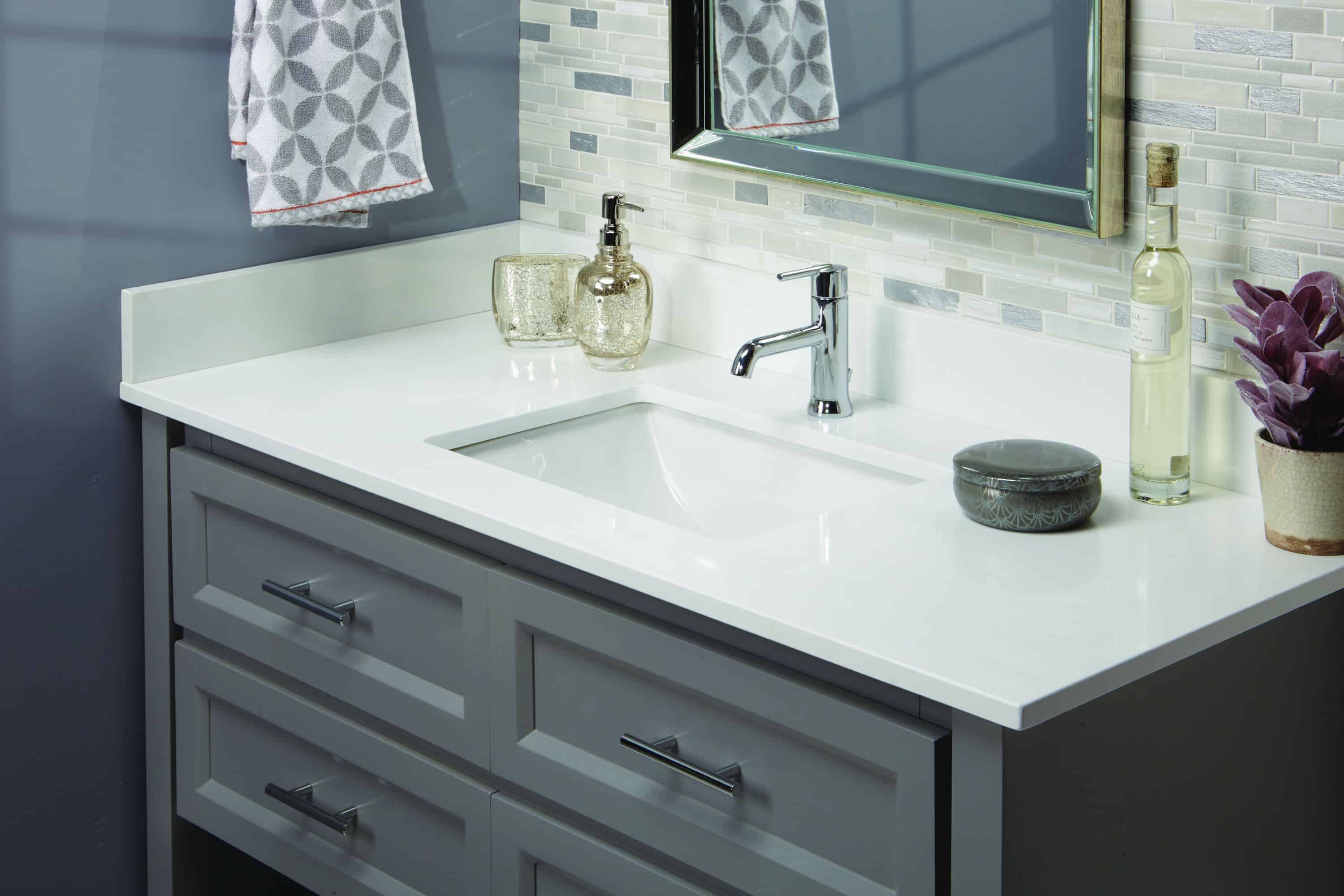 Geoscapes Quartz – Casablanca
See how easy remodeling the bathroom can be? Just five simple steps to revitalize your bathroom. If you're interested using A'Vant Vanity Surfaces to make your bathroom remodel easier, check out this video from VT Industries.
To find a local dealer of A'Vant Vanity Countertops, visit VT Industries.
Let's hear from you – what do you want to change about your bathroom?
A'Vant Vanity Countertops – The Good Kind of Vanity
Make sure to Pin this Graphic on Pinterest so you can refer back to this list!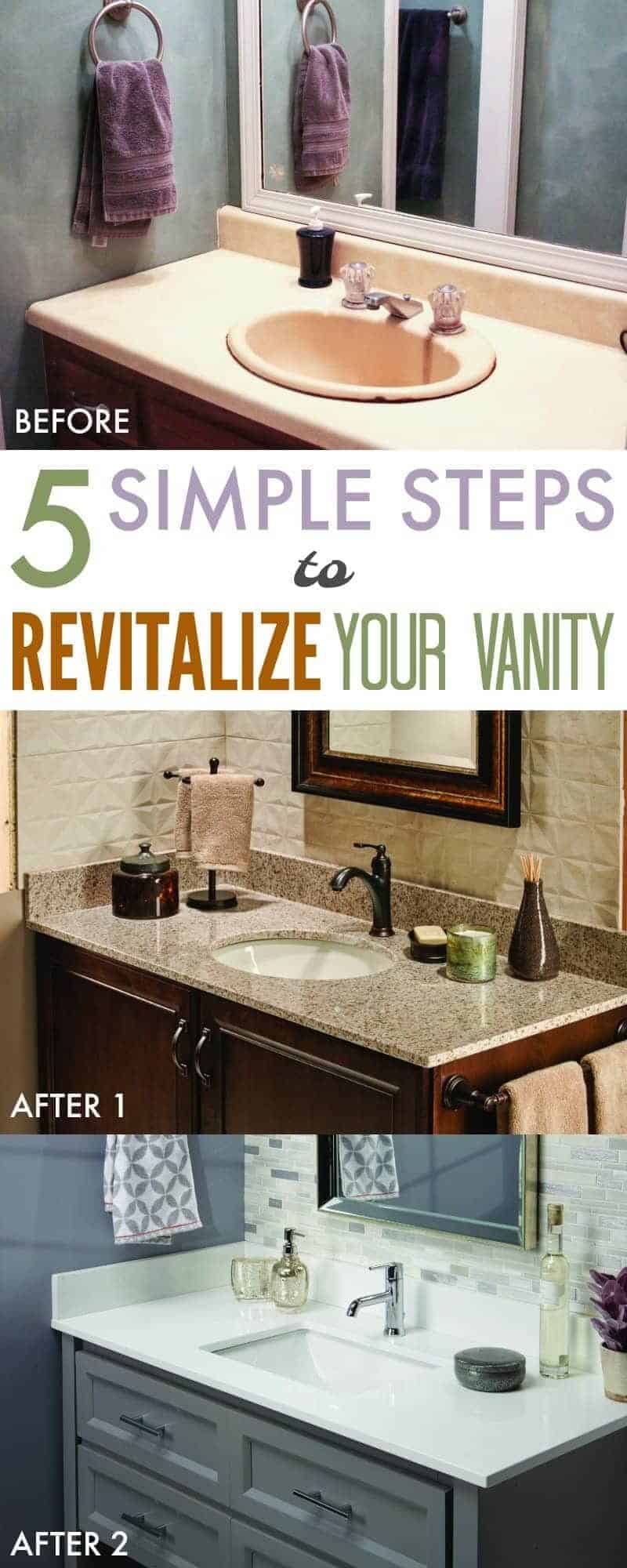 All Geoscape images courtesy of VT Industries.