Puerto Rico, The All-Star Island
for
SocialSpark
. All opinions are 100% mine.
I'm sure when I mention Puerto Rico, visions of beautiful beaches and relaxing vacations come to mind.
And maybe outstanding food.
Adventure.
Culture.
Shopping.
Whatever it is that you like to do, Puerto Rico has activities to fill your itinerary and ensure your trip is a 5-star vacation!
Live your own 5-star vacation story in Puerto Rico.
Key facts about Puerto Rico
In Puerto Rico, Spanish and English are the official languages; most Puerto Ricans speak English.
Puerto Rico is a US Commonwealth so US citizens do not need a passport to visit.
The US dollar is the official currency of Puerto Rico.
More than 70% of the rum sold in the US comes from Puerto Rico.
Puerto Rico houses the world's largest single-dish radio telescope, spanning almost 20 acres.
Toro Verde features the longest Zip Line on Earth which uses a specially designed harness to soar through the air across 4,745 feet of terrain.
Puerto Rico has 270 miles of coastline.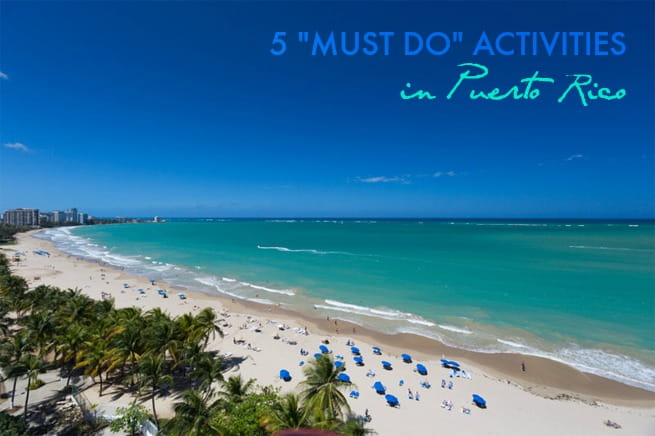 If I was visiting Puerto Rico, these five activities would absolutely be on my "must do" list!
Paddle through a glow-in-the-dark bioluminescent bay.
Check out the old world charm of San Juan.
Take a culinary tour.
Rappelling into a cave.
Go salsa dancing.
But in addition to all that, I certainly want to spend as much time as possible simply relaxing on the beach.
How about you?
What activities would be on your "must do" list in Puerto Rico?
For more information about Puerto Rico Like SeePuertoRico.com on Facebook and Follow @PRTourismCo on Twitter!
Join our newsletter!
Subscribe to get updates and great stuff via email including subscriber-only goodies like free printables and giveaways.

This is a Sponsored post written by me on behalf of