This is a sponsored post written by me on behalf of Clif Bar & Company for IZEA. All opinions are 100% mine.
I found it more and more difficult lately to find the time to fit my workouts into my day. I love to workout, but I either can't seem to make the time or worse, I can't find the energy to do it. It's a vicious cycle too and the less often I workout, the less energy I have. It's a catch-22 as they say.
So how do you stop this cycle that keeps you from getting the exercise your body needs?
Sports nutrition expert Bob Seebohar has some ideas. Bob is not only a competitive triathlete and runner, but he is also a Board Certified Specialist in Sports Dietetics and is a Sports Dietitian for the United States Olympic Committee. Whether you are a seasoned career athlete or someone just trying to stay fit and healthy, these tips can help you find the everyday energy you need to get fit. And if you were going to listen to someone, his credentials are impressive!
Bob Seebohar's 5 Get Fit Tips for Every Day Energy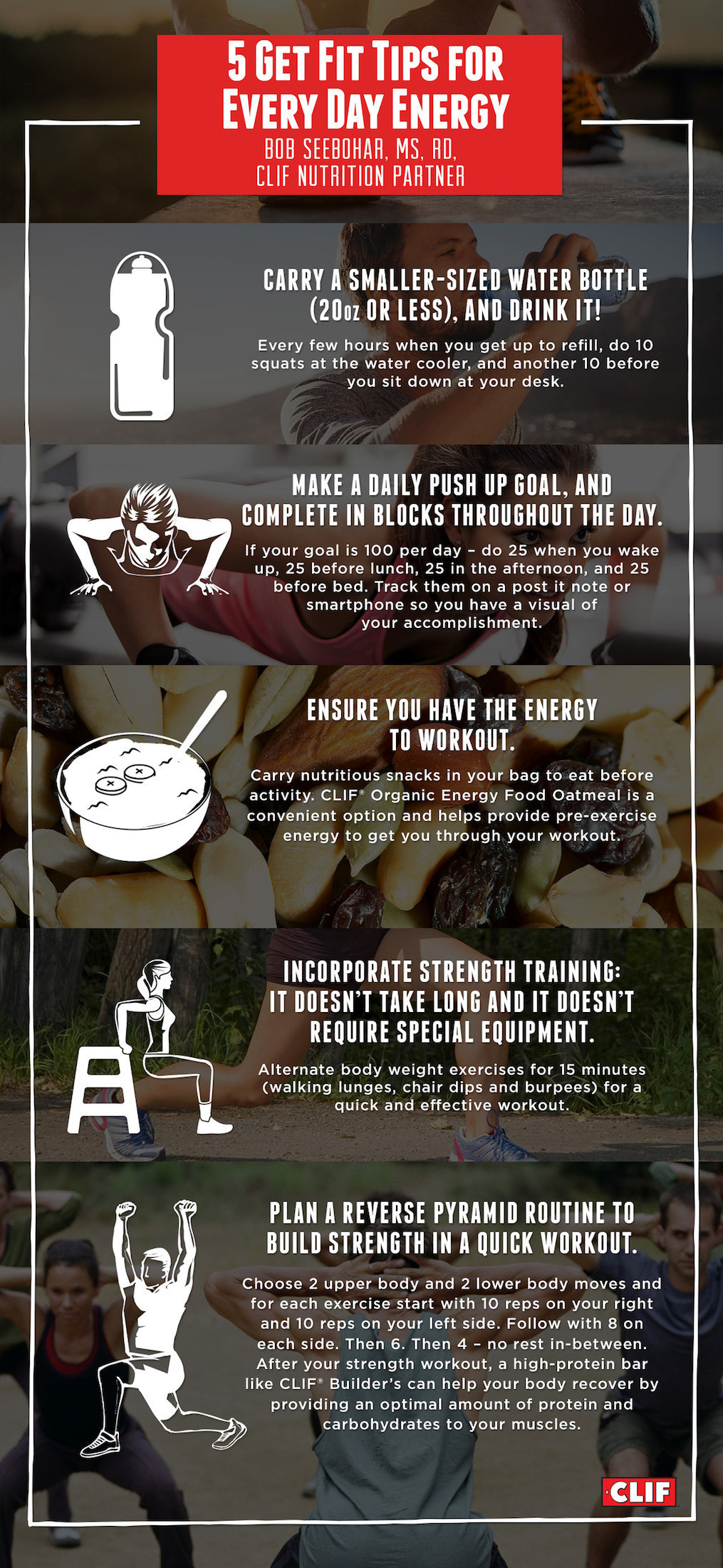 I love the exercise tips. They show you that exercise doesn't have to be formal or continuous. You can get a workout in in pieces throughout the day if you can't set aside the time to do it all at once. You can take the water refill exercise to the next level too and require yourself to do ten pushups before you can sit down in a chair, and 30 jumping jacks before you sit down to a meal. The possibilities are endless! And the more exercise you get, the more energy you will have.
But exercise itself isn't enough to provide the energy your body needs. You need additional nutrition to help energize your body, and that is where CLIF comes in. CLIF has nutrient dense options that can help you get through your workouts with enough energy for a successful workout.
CLIF Organic Energy Food
CLIF Organic Energy Food are portable oatmeal pouches made from real, organic ingredients. They are convenient and go where you go, no matter how busy you are. They are designed to nourish your body before a workout and contain the non-GMO nutrition your body needs for optimum energy. They come in two new delicious flavors: Banana Maple Oatmeal and Apple Cinnamon Oatmeal.
CLIF Builder's Bars
Clif Builder's Protein Bars are convenient bars chock full of protein and are perfect for post-workout recovery. They are low glycemic and are a great source of protein option for after your workouts. They are filling and easy to put in a purse or gym bag too!
Do you struggle with fitting workouts into your routine? How about your energy levels? Do you need a boost to help get you through your workout and help your body recover? Which one of the above tips is your favorite?