It's like clockwork.
With backpacks still attached to their shoulders and that slightly hunched over posture that comes from appearing to carry bricks around in their school bags, they make a bee-line for the cabinet. No "hi mom." No "how was your day?" Not even a glance in my direction. Only a rhetorical "can I have a snack" that comes out half-muffled through the bite of cookie they already took: "cab I hab e schach?"
The best way I have found to get their attention at this moment is to tell them no. Or better yet, to tell them that they can have fruit or a salad. But then I have to deal with the wrath of the after-school child, and that is very rarely pleasant. And very rarely a silent experience.
I get it. I mean, while I sat around all day watching TV and looking at Facebook, they had to endure learning where they have enormous responsibilities such as making sure their pencils remain sharp and that they raise their hand if they have something to say. That takes a lot out of a person. Meanwhile, I was here petting the dogs and eating chocolate as the laundry miraculously did itself, the toilets cleaned themselves (all three of them and seriously the wall is like two feet away, how…?), the carpet mysteriously became dog-hair free, and the dinner prepped itself and put itself in the oven. Not to mention the actual work that pays the bills that managed to get itself done.
But I don't understand; I get to stay home all day.
Despite their apparent lack of appreciation for how things get done around here, I still want the best for them, which means healthy snacks after school and whenever possible. Ideally, healthy snacks that they like the taste of because I already get accused of not doing anything, I'd rather not be called mean on top of it.
Scary, yes. Mean, no.
So, what constitutes a healthy after school snack? What does one look for, especially if the mere mention of fruits and vegetables elicits a fight or flight response?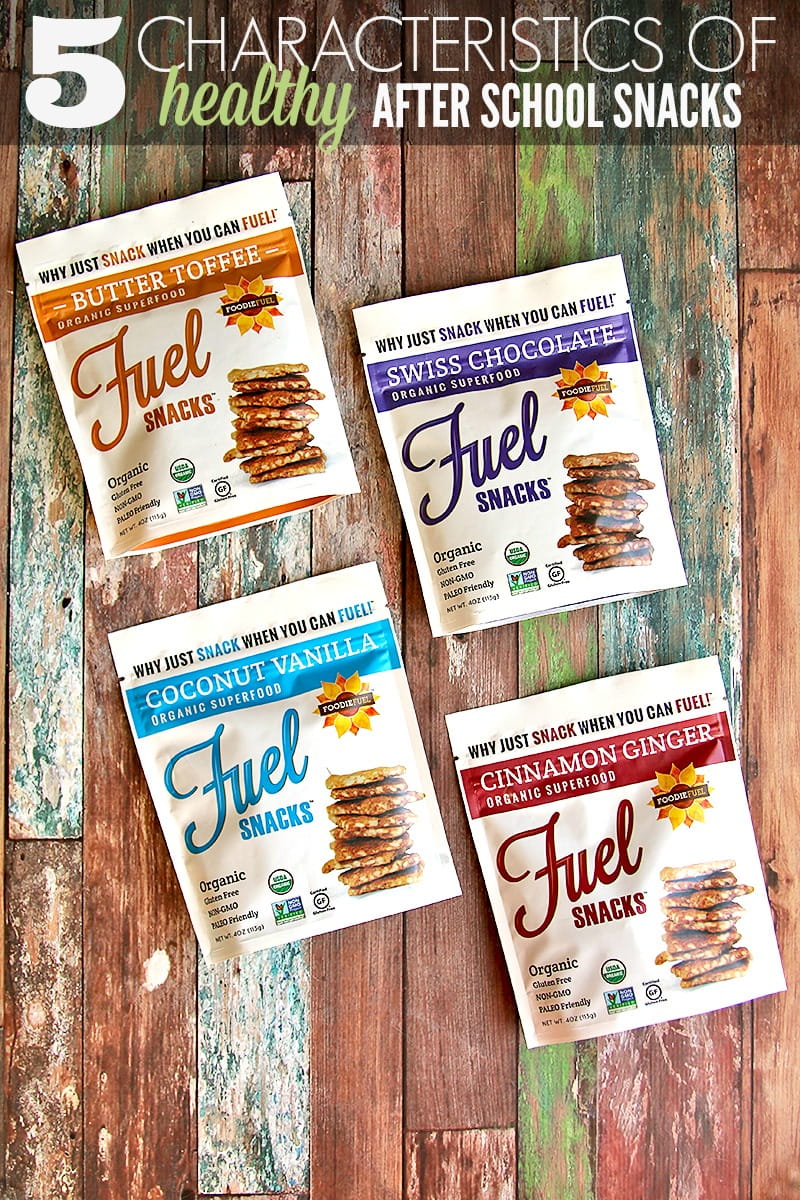 5 Characteristics of Healthy After-School Snacks
No artificial anything – their growing bodies don't need artificial ingredients. These ingredients have no nutritional value, may damage the body and plenty of things without them taste great! No one ever said, "ooooh the red dye makes this snack taste amazing."
Protein-packed – protein is essential for all of us and can help fuel their brain function, which they will need to get their homework done after their snack. You may want to have some of that snack too because have you tried helping kids with homework lately? I swear they changed the math.
Raw natural, energy – sugar and caffeine laden snacks may give them an initial boost after a long day at school, but it's fleeting and will wear off quickly. Choose a snack with slow-burning carbs that will provide them with sustained energy naturally. Because despite your desire for them to go into a coma after school, it's just not healthy.
Non-GMO – GMOs are genetically modified organisms and as yet, have not been proven safe. They haven't been proven dangerous either, but when you consider that they are designed to withstand harmful pests and pesticides, it's enough to warrant being cautious and avoiding them for now. Oh, when bugs eat that, they die, but it' ok for you to eat it. Um. No.
Organic – Pesticides are used to repel bugs that damage our food supply yet we ingest products covered in synthetic pesticides daily. But if these pesticides can harm bugs, it's logical to wonder if they are safe for us. Organic products aren't grown using synthetic pesticides. You lock up and put up harmful things in your home, so your kids don't ingest them, choosing organic means less chance of ingesting poison in their food.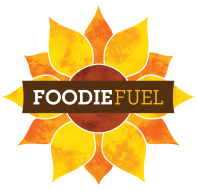 Foodie Fuel Snacks are all of the above!
Foodie Fuel
Foodie Fuel sent me eight of their 4oz bags of snacks, two each flavor. Their flavors are Coconut Vanilla, Butter Toffee, Cinnamon Ginger and Swiss Chocolate. Each package has four servings inside. Each of the flavors is certified organic, Non-GMO Project Verified, vegan, low glycemic and nutrient rich. And delicious. So your kids won't think your mean. At least not because of the snacks you serve them.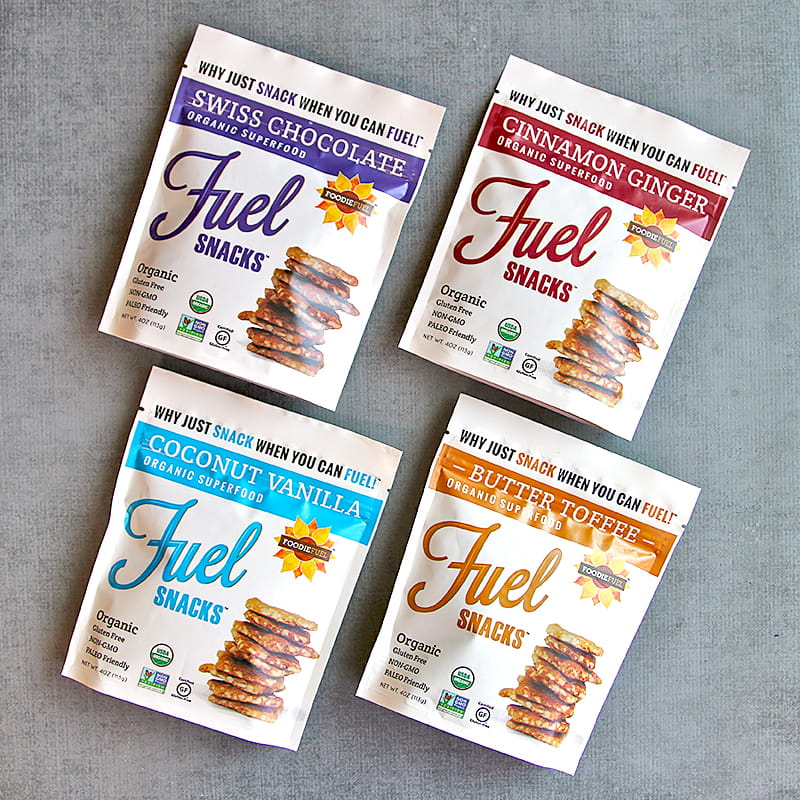 Foodie Fuel was founded by two women who wanted to create a nutritious, high-quality, guilt-free snack that they would feel good about serving to their own families. One that offered steady, sustained energy naturally.
The True Test
I asked my son to try them because he's one of those kids who will try just about anything if I ask him to as long as it doesn't look anything like broccoli or cauliflower. He tried the Butter Toffee flavor and said, "Oh, that's good, can I have more?"
Score.
Sometimes I feel like I'm super sneaky giving them things that they like that are actually good for them.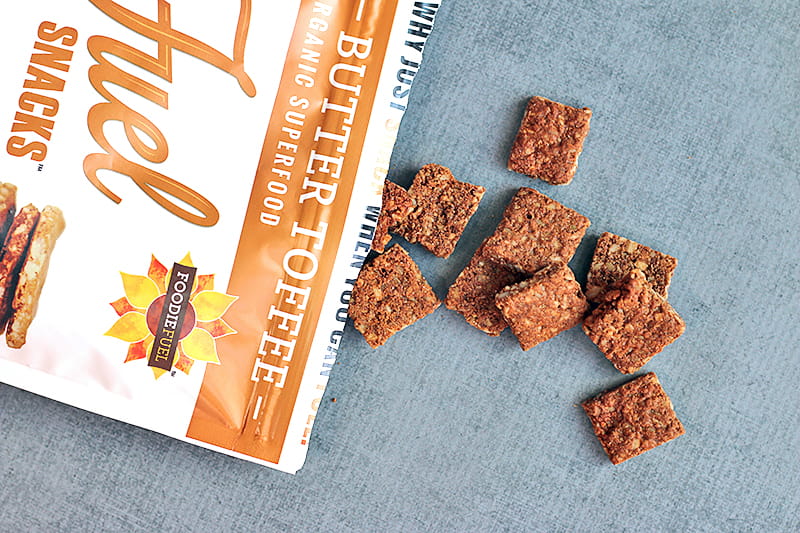 Foodie Fuel snacks are bites sized, have just the right amount of sweetness and a satisfying crunch. My son claimed he was going to eat the whole bag, but they were filling enough he only had one serving and was done.
You can purchase Foodie Fuel snacks on their website here: buy Foodie Fuel. They sell for $5.99 a bag and you can snag free shipping is you buy 6 or more bags. For a four serving, healthy snack that has some nutritional value and works great for on-the-go, I think the price point is on par with other organic snacks I have tried.
Which Foodie Fuel flavor sounds like it would be your favorite?