Have you been considering a new deck for your home and wondering about the differences between wood and composite decking? Keep reading because below I lay out 5 key benefits of composite decking that may help make your decision easier.
This is a sponsored post in partnership with TimberTech. Opinions are my own.

A deck is an outdoor extension of your living space. It's a place to entertain, a place to create memories with your family and it can add value to your property. You want it to be beautiful and you want it to last. So you need to make sure you make the right choice when adding or replacing a deck on your home.
What is composite decking?
Composite decking is a material that is made up of wood fiber or flour and plastic with a binding agent. Composite decking is often made from recycled materials.
What are the benefits of composite decking?
Benefit 1 – Durability and Longevity
Composite decking will withstand weather and the elements much better than traditional wood. It doesn't rot and will not be affected by pests that can damage and destroy wood.
A composite deck will not warp like traditional wood and has better fire resistance as well. It resists mold and mildew caused by water and moisture.
A composite deck will last far longer than a wood deck because of its durability and weather resistance.
Benefit 2 – Environmentally Friendly
Composite decking is made from both recycled wood and recycled plastics. It is a sustainable product that has less impact on the environment because it uses products that might normally end up in a landfill.
Benefit 3 – Low Maintenance
With a wood deck, maintenance is an annual affair. Staining, sealing or painting, replacing damaged boards, etc. It seems like there is always something needing to be done to maintain a wood deck.
With a composite deck, the extent of maintenance involves a quick washing every once in a while to keep it looking fresh and clean.
Benefit 4 – Design and Style Options
If you look around your neighborhood at all of the wood decks, it's a good bet that aside from paint or stain color, they all look essentially the same. Composite decking gives you so many more options in addition to color.
Board texture, railing design, patterns and you can even mix and match colors for a completely custom, unique, one-of-a-kind deck.
Benefit 5 – Cost
While the initial cost of a composite deck may be higher than wood, when you factor in lower maintenance and longevity, you may find that the costs are comparable.
Stain and paint every other year has added costs, and you might have to replace your wood deck halfway through the life cycle of a composite deck. There also may be added value to your home with composite vs wood. So make sure you keep that in mind when you are comparing the pros and cons and considering the benefits of composite decking.
Another bonus benefit of composite decking is NO SPLINTERS! Have you ever had a splinter in your foot? It's not fun at all. You won't have to worry about that with a composite deck.
Why Choose TimberTech composite decking?
TimberTech composite decking will help you transform your outdoor living space!
All the benefits of composite decking
TimberTech products have all of the benefits of composite decking including durability, longevity, sustainability, low maintenance and more.
But TimberTech stands out for some of the additional features they offer with their composite decking products.
Versatile design options
Not only does TimberTech provide deck plans and project estimates right on their website, but they also have the tools (including a deck designer) to help you plan and visualize your perfect deck.
But it doesn't end there. TimberTech allows you to "do decking differently" with their multi-width decking board options that allow you to mix and match and have fun with your deck design.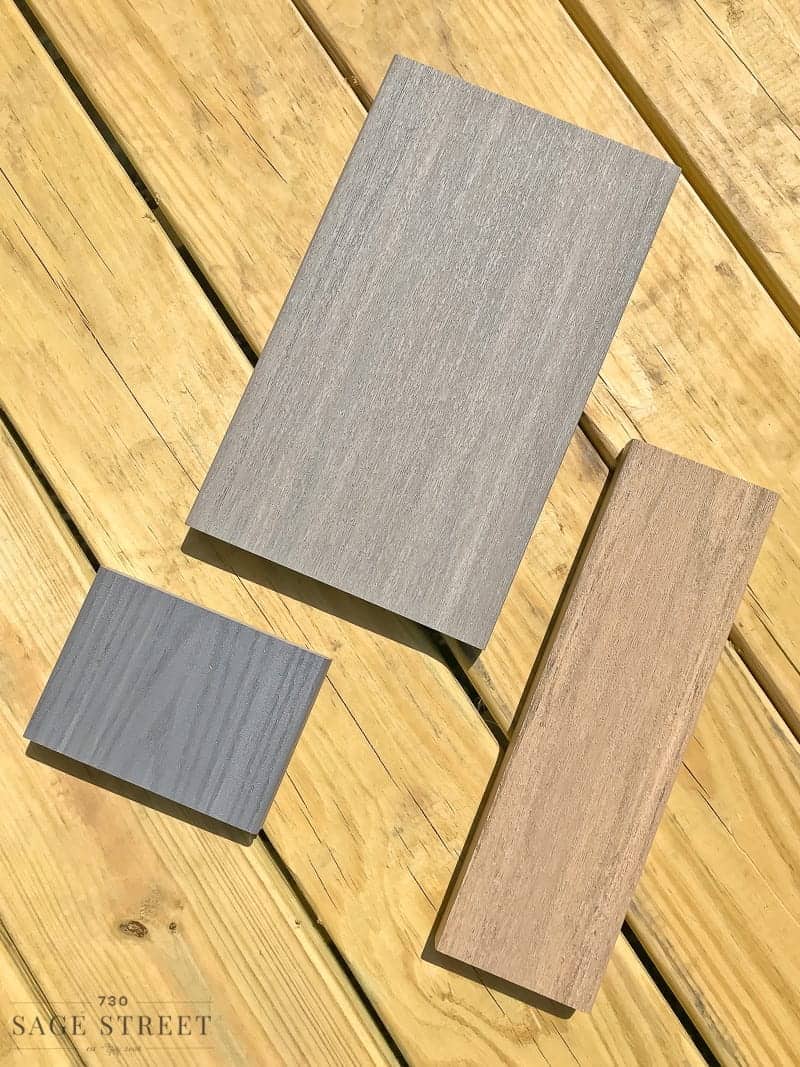 Technologically advanced
TimberTech decking is engineered for durability. It has protective polymer technology for unbeatable moisture protection from rot, mold, and mildew.
TimberTech is guaranteed to last longer than both traditional wood and the leading competitive composite products. Their warranties start at 30 years and include fading and staining.
Order samples
Not sure how your TimberTech design choices will look with your home? You can order free samples so you can see the exact colors and widths you made firsthand before committing to the design.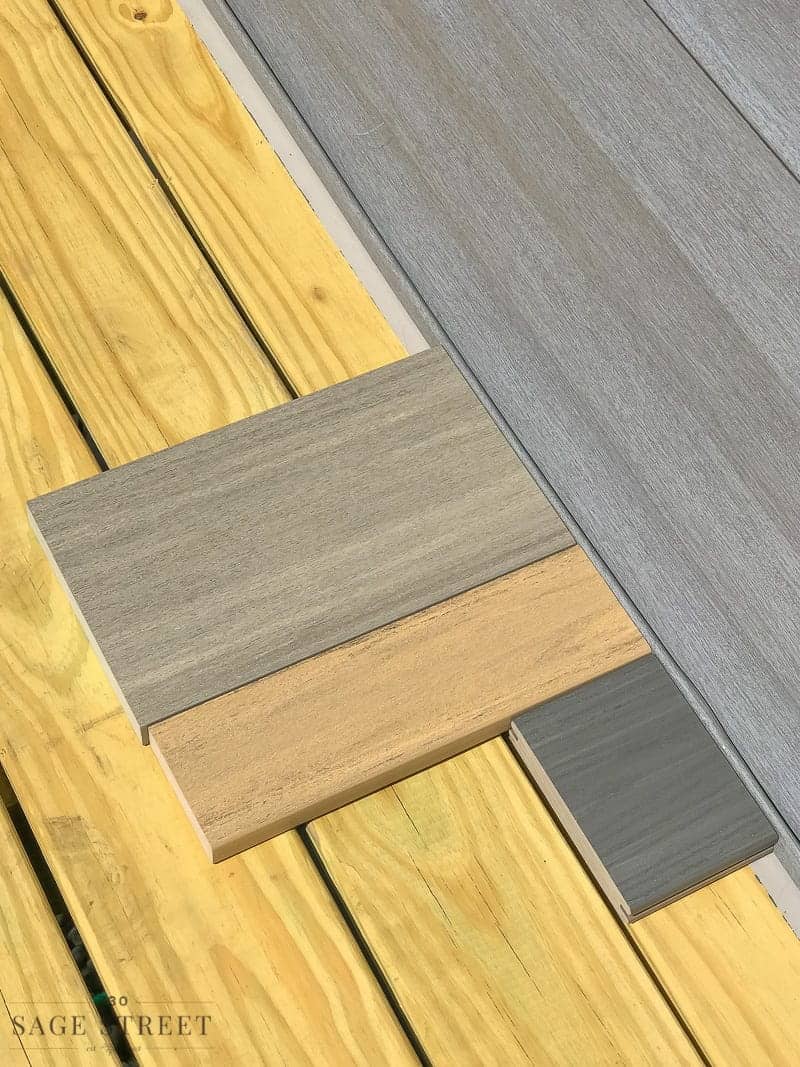 I may have to go back to the drawing board with the colors I chose because they don't really go well enough with my siding. But I do know one thing for sure, I LOVE the wider width boards! They are going to look amazing!
Are you considering a new deck? What are your favorite features of composite decking?