This 30 day burpee challenge is an easy burpee challenge for beginners or anyone wanted to add a fun challenge to their existing workout routine. If this burpee challenge isn't quite challenging enough for you, check out this burpee workout.
I know everyone has a love hate relationship with burpees but for good reason. Burpees might be the devil, but they work.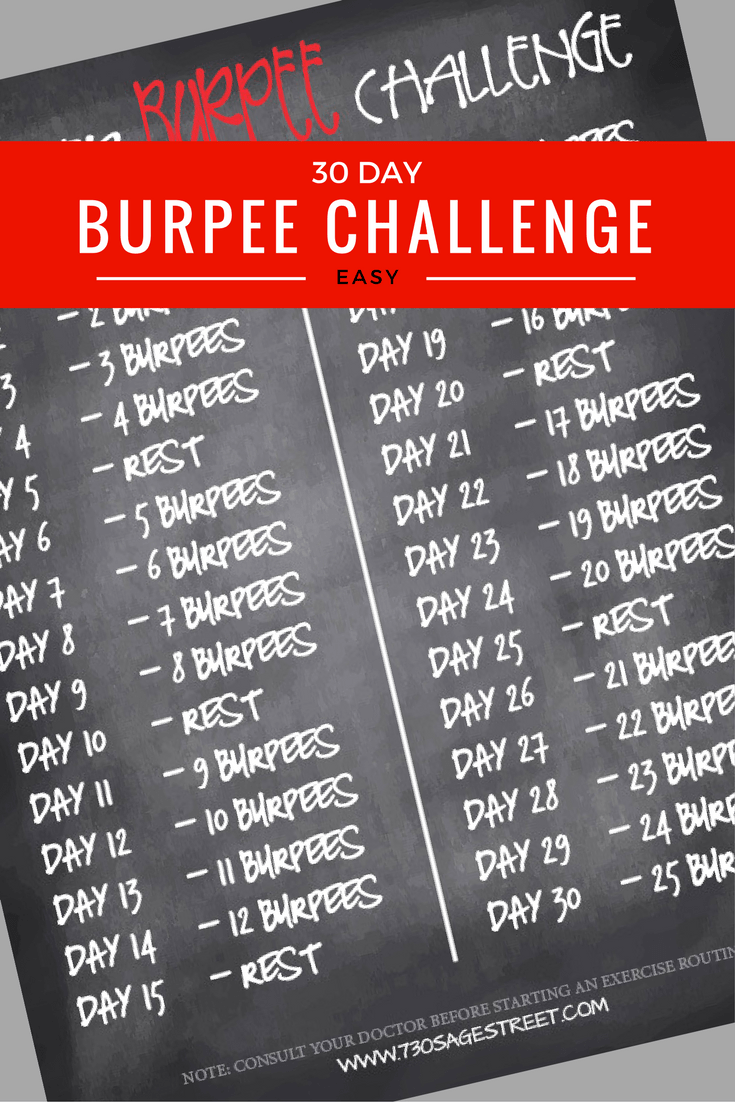 What is the burpee challenge?
First of all, you might wonder, how do I do a burpee. Well, I covered that here: burpees challenge. So head over there for instructions. Then come back here to find out what is the burpee challenge!
The challenge is a 30 day program where you commit to doing an increasing number of burpees every day. Since this is a beginner's challenge, you start with 1. Pretty easy right? You then add one each day. But I did add some rest days in there because you don't want to hurt yourself doing too much too fast. So please take advantage of them.
So you start day one with 1 burpee, then on day 2, do 2 burpees. On day 3 you do 3 burpees and so on. Because of the rest days, on day 30, your final day, you do 25 burpees, not 30. Check off each day as you go along so you can feel accomplished.
30 Day Burpee Challenge
The challenge will help you increase your fitness and your cardiovascular levels. You can do it combined with other programs or on its own. Since burpees are a total body workout, you will feel the effects all over. If this beginner challenge is too easy for you, you can always double up or give the extreme challenge a try.
When you are finished, you can start over or try one of our other fitness challenges.
Download the printable
You can snag the 30 day burpee challenge pdf here: beginner burpees.
Make sure you share your 30 day burpee challenge results with us. You can tag us on social media @730sagestreet and use the hashtag #730fitness.