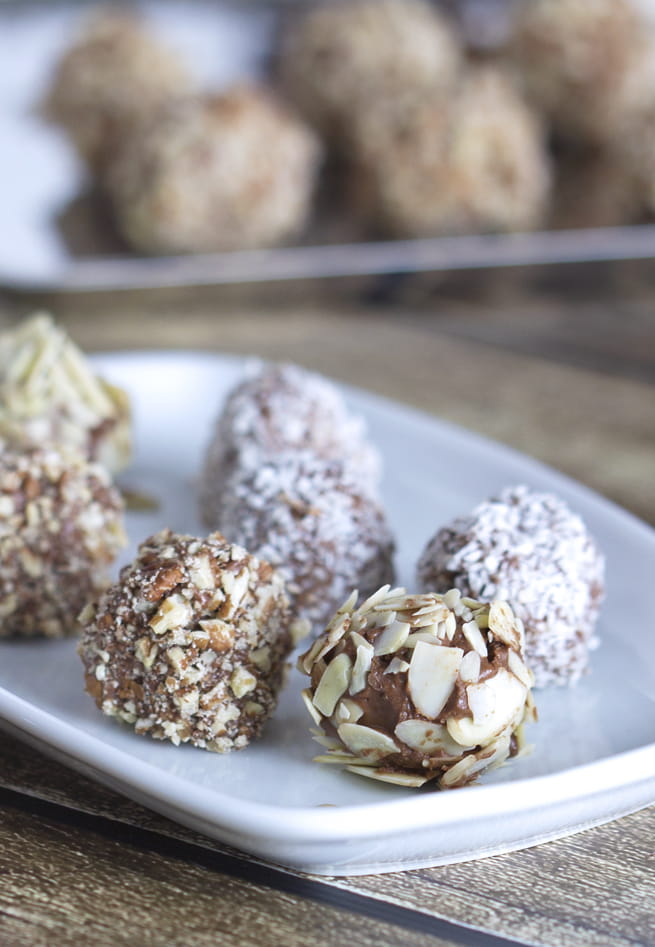 I thought truffles
were some kind of weird looking mushroom.
I avoided them at all cost.
Until one day I saw a recipe
online that was described as a truffle and it contained chocolate and other tasty sweet things.
Apparently truffles can also be little balls of yummy goodness.
Just make sure you clarify if someone offers you one…
I recently received a hot-off-the-presses copy of The 21-Day Sugar Detox Cookbook and when I saw the recipe for truffles I just had to try them.
The 21-Day Sugar Detox can seem like such a challenge if you are someone who loves sugar. Even those of us who don't consume that much sugar find that we struggle initially with those sweet cravings. But Diane Sanfilippo, the author of The 21-Day Sugar Detox and The 21-Day Sugar Detox Cookbook has thought of everything.
Cookies
Scones
Donuts
Truffles (the non-mushroom type)
None of which contain any sugar at all, but help satisfy your brain for a little bit.
Below is my version of the recipe from the book, there are actually 3 different versions that I made, you can take the base recipe and make whatever you want. I used almond butter for these but you can make them nut-free with sunflower butter and obviously limit your toppings to coconut and cinnamon.
Print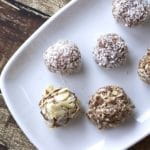 The 21-Day Sugar Detox Truffles Recipe
Author: Kim
Prep Time: 15 mins
Total Time: 15 mins
Yield: 8-12
---
Description
One recipe – 4 different options. Want them all? Divide the mixture into 4 equal parts or better yet, multiply the recipe by 4. I recommend making each batch separately so the base doesn't become too difficult to work with.
---
Ingredients
Truffles Base Ingredients
Vanilla Pecan Flavor Truffles Ingredients
1 tsp vanilla extract
1/3 cup pecans (chopped) for topping
Chocolate Peppermint Truffles Ingredients
2 tbsp cacao powder
1/2 tsp peppermint extract
1/3 cup unsweetened coconut (shredded) or 1/3 cup slivered almonds for topping
Almond Coconut Flavor Truffles Ingredients
1/2 tsp almond extract
1/3 cup unsweetened coconut (shredded) for topping
Vanilla Cinnamon Flavor Truffles Ingredients (not pictured)
1/2 tsp vanilla extract
2 tbsp cinnamon for topping
---
Instructions
Truffle Base Instructions
Soften the base ingredients by placing glass jars in a pan of water.
Combine base ingredients in a small bowl until completely blended.
Truffle Flavor Instructions
Blend your desired extract into the base and place in the freezer for about 5 minutes. Any longer and it gets too hard. You may not need as much time in the freezer depending upon the consistency of your base. My almond butter was very soft and took a bit longer.
Remove the bowl from the freezer and stir until even.
Taking small amounts at a time – I used about a tablespoon for each one, but you can use less – roll into balls and then dip and roll into your chosen topping (pecans, coconut or cinnamon).
Place each truffle onto a sheet or plate and refrigerate until ready to eat.
I was honestly shocked at how yummy these are! They actually taste sweet. It might be all in my head but who cares!

If you are looking for coconut butter
, it's not the least expensive thing ever but it's worth it!
You can find it on Amazon or Vitacost and I'm sure at your local healthy foods store. It is less expensive at Vitacost but you have to meet a minimum to get free shipping. It's worth it though because their prices generally are the lowest around.
You can stock up on all of your 21 Day Sugar Detox Essentials and save money! They ship fairly quickly too, not as fast as Amazon 2-day
but not bad.
Join our newsletter!
Subscribe to get updates and great stuff via email including subscriber-only goodies like free printables and giveaways.