Follow along on my 21 day journey as I complete "The 21 Day Sugar Detox" along with my friend Kelly from A Girl Worth Saving.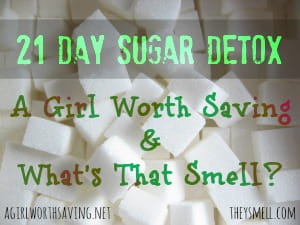 I have had a crazy couple of days with work, just being very busy.
I have however, stayed on track and have not deviated from The 21 Day Sugar Detox plan (level 2-1/2…) despite a lot of stress that normally would have sent me to the pantry to grab something quick and easy, likely with sugars and grains.
I went old school in the video with black & white…like yeah actually before I was born.
Yes, they had color TVs when I was a kid…
Hey did I make it through the video without saying "so far, so good?"
Join our newsletter!
Subscribe to get updates and great stuff via email including subscriber-only goodies like free printables and giveaways.