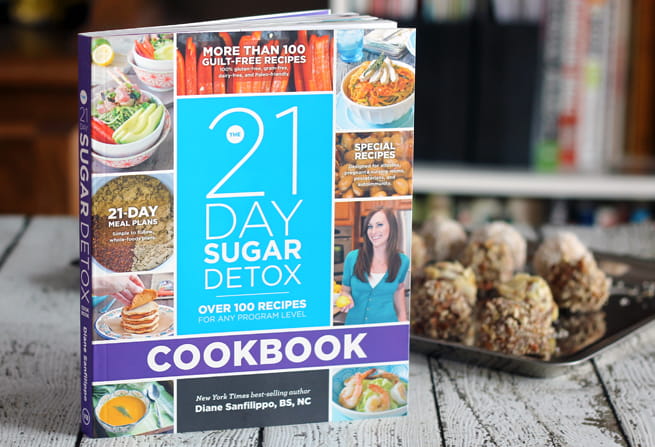 The 21-Day Sugar Detox Cookbook
The 21-Day Sugar Detox Cookbook, a companion to The 21-Day Sugar Detox program guidebook, bursts with more than a hundred grain-, gluten-, legume-, dairy-, and sugar-free recipes to keep you inspired as you blow your cravings for sugar and carbs to smithereens.

Taking on a detox plan can seem daunting, but these sumptuous recipes and life-altering eating concepts will make you wish you'd started sooner. Your 21 days will be over before you know it, your carb and sugar cravings a distant memory.

With palate-pleasing, and soul-satisfying, recipes for breakfasts, lunches, dinners, snacks, and even some "sweet" treats, The 21-Day Sugar Detox Cookbook is your guarantee for delicious detox success!
I have completed one round of The 21-Day Sugar Detox officially and after a short break, I now follow it rather regularly. It seems extreme – basically eliminating all sugars and grains with the option to remove legumes and dairy as well, but it's worth trying for at least one round. It changed the way I felt for the better and I already followed a grain-free diet.
There are 3 Levels you can follow on The 21-Day Sugar Detox.
Basic rules of all 3 levels:
No refined carbs
Very limited fruits
NO sweeteners of any kind
Very limited starches
Level 1 allows dairy and a small serving of legumes or a select list of grains (rice, arrowroot, etc.) each day. Level 2 removes the legumes and grains completely while allowing the diary. Level 3 is the most restrictive eliminating dairy as well.
All of the recipes we have tried so far from both books have turned out amazing!
Check out some recipes I created that were inspired by the book:
You don't necessarily need to original program book to follow the program, the cookbook does explain the basics and includes the lists of yes and no foods for each level. You can absolutely follow The 21-Day Sugar Detox with only the cookbook, although the original book has more complete information and has great additional recipes too.
Giveaway Terms
Giveaway Ends: February 14, 2014 at 11:59pm CST
You may enter this contest daily.
OFFICIAL RULES: No purchase necessary to enter or win this giveaway. Entering this promotion is considered acceptance of these terms. Limit one daily entry per email address. Entry open to anyone 18 years of age and over and is limited to the USA. Giveaway ends on February 14, 2014 at 11:59pm CST.  Winner will be chosen at random from all eligible entries and will be notified by email. Winner will have 48 hours to respond, contest host is not responsible for spam filters. Please add [email protected] to your trusted email filter.  Prize provided by book publisher.
---
Note: What's That Smell? received a copy of The 21-Day Sugar Detox Cookbook for review and an additional copy for this giveaway.