This 15 Minute Low Carb Pepperoni Pizza Chicken can be made with any pre-cooked chicken breast.
I can't even count on two hands how many times 6:00 pm rolled around, and I had nothing planned for dinner. And this was just last week! Nothing planned. Nothing thawed. My kids were beginning to think that dinner had become a mythological experience long extinct.
Dinner, what's that?
Many a night they were forced to fend for themselves exploring the deepest, darkest corners of the fridge, and while they do a decent job of finding something reasonably nourishing, it makes me feel guilty. Even when it's outside my control. But thanks to Johnsonville's new Flame Grilled Chicken, dinner has returned to our house, and my 15 Minute Low Carb Pepperoni Pizza Chicken recipe is now a family favorite.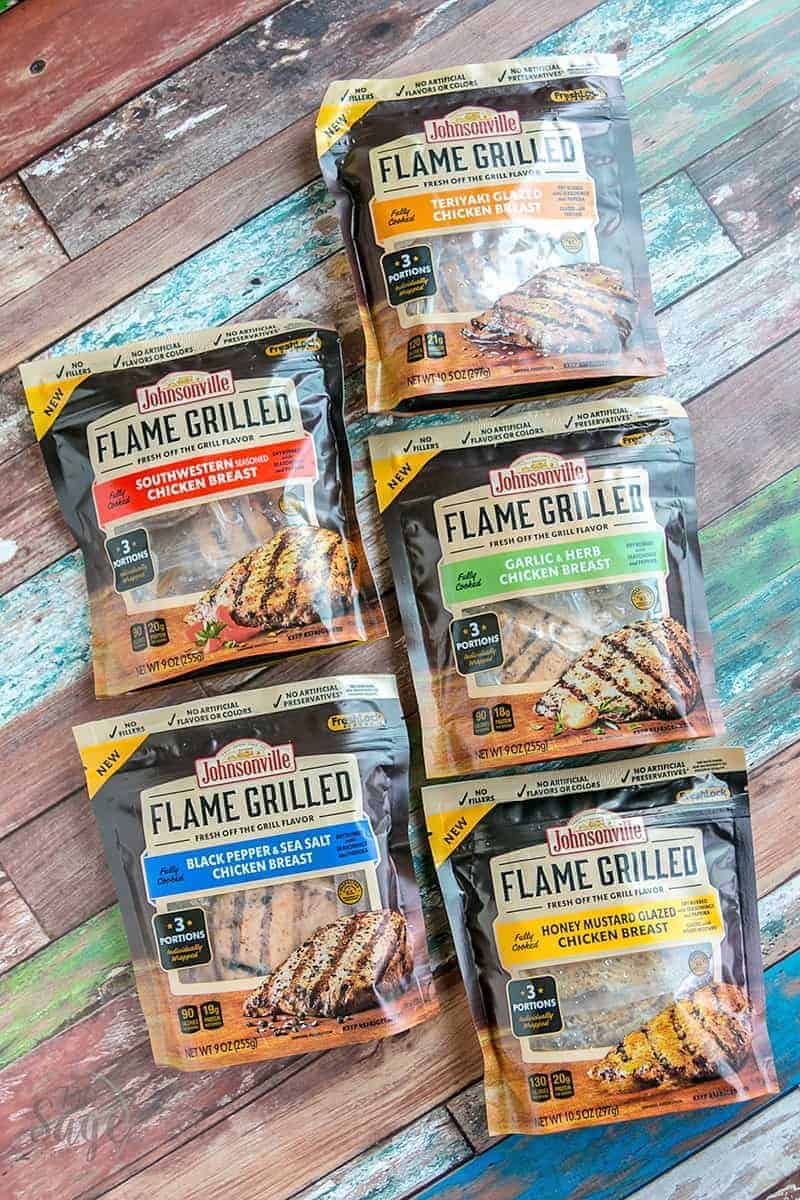 Johnsonville's new Flame Grilled Chicken is fully cooked US-sourced chicken breast (no rib meat) and ready for you to use in your favorite recipes. They come in five flavor varieties are free of fillers and don't contain MSG, artificial preservatives, flavors or colors. Each piece is dry rubbed with seasonings and flame grilled over an open flame and then individually wrapped in 3-ounce portions. Each piece contains 80-130 calories and takes just two minutes in the microwave to heat. You can find Johnsonville Flame Grilled Chicken in the refrigerated meat sections at grocery stores across the country.
You can enjoy these new flame grilled fully cooked chicken breasts on their own with a vegetable, on a bun as a sandwich, cut up in a salad, or a myriad of other ways. The sky's the limit! You save a lot of time creating a meal because the chicken is already fully cooked, it just needs to be heated up. My Low Carb Pepperoni Pizza Chicken takes just 15 minutes from start to ready-to-eat, and it's delicious!
15 Minute Low Carb Pepperoni Pizza Chicken
Each Johnsonville Flame Grilled Chicken package comes with three 3-ounce fully-cooked chicken breasts. You then need an oven-proof skillet or a small casserole dish. Since it's "pizza" flavored, you will also need mozzarella cheese, tomato sauce, Parmesan cheese, pepperoni, and optional dried basil.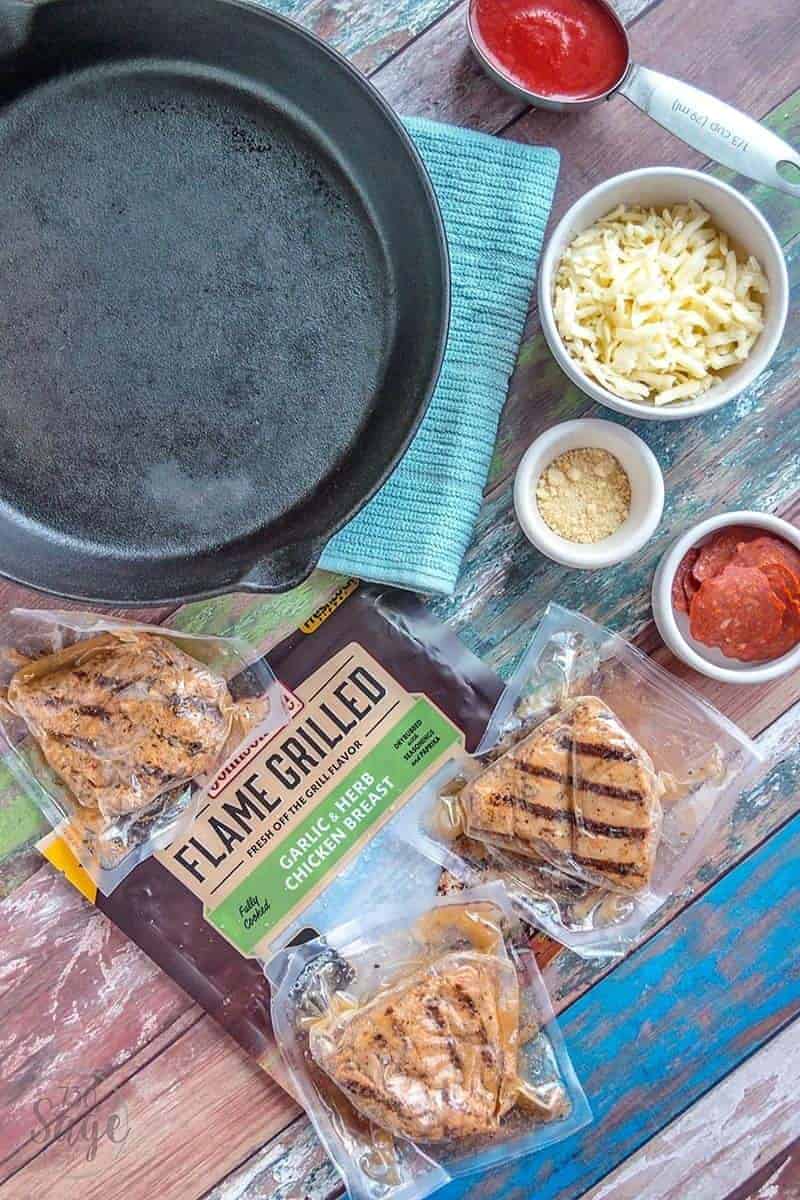 Place the chicken in the pan, you can pour the liquid from the container in there as well but it will mean a runnier sauce under the chicken. I left it in for flavor.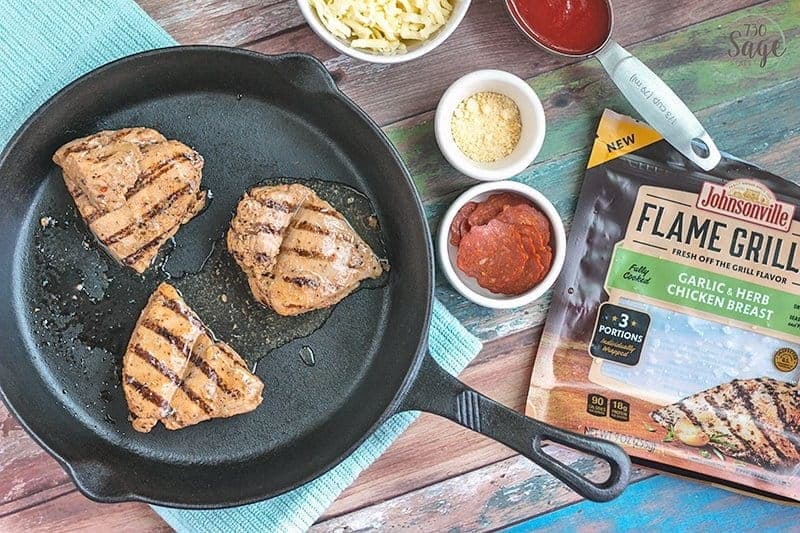 Then you layer up your ingredients like you would a pizza.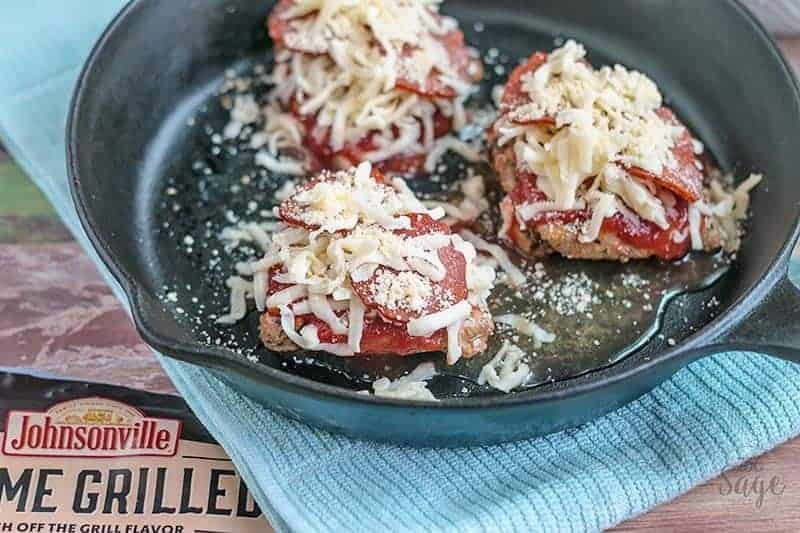 Then bake and serve!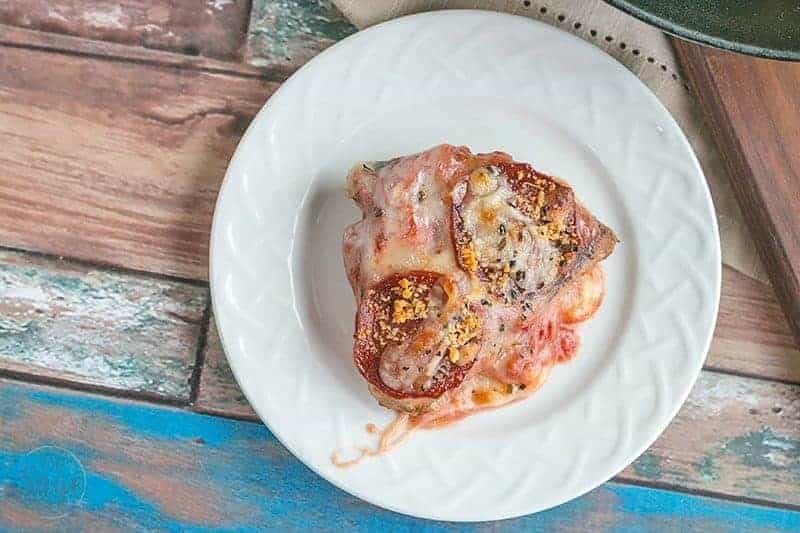 This was delicious and full of flavor. I loved how easy it was to make.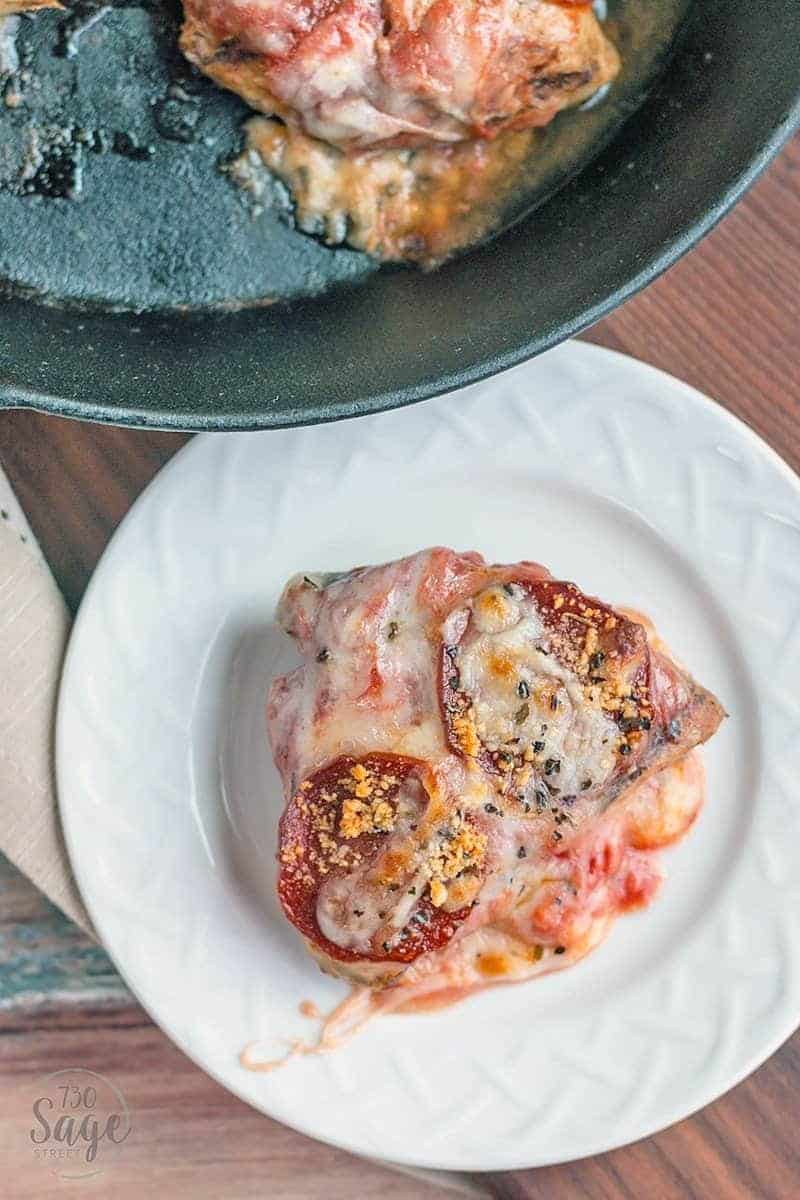 The chicken was tender, juicy and the flavors complimented each other nicely.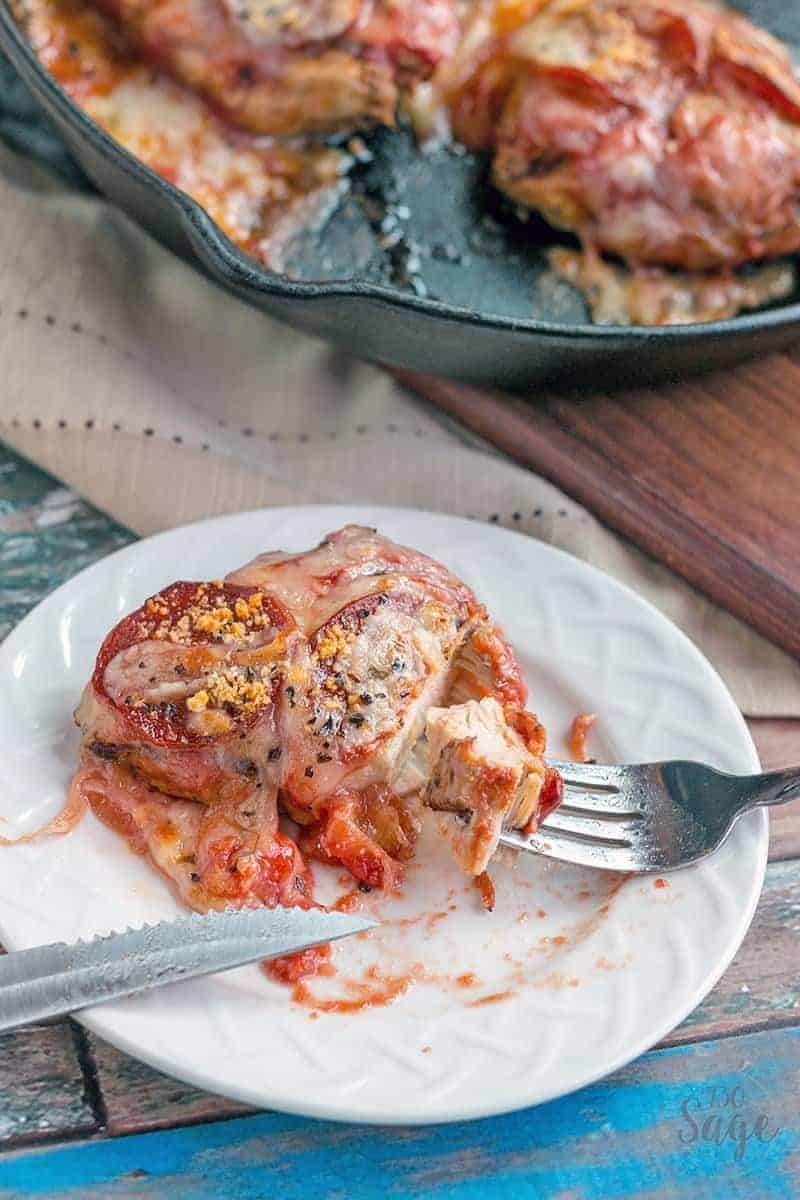 My next creation will be a low carb chicken taco breakfast pie using Johnsonville's Flame Grilled Southwestern Flavored Chicken Breast. You could actually serve it for dinner as well if your family doesn't mind eggs for dinner. Stay tuned for that recipe soon!
In the meantime don't forget to check your local grocery store's refrigerated meat section for Johnsonville's Flame Grilled Chicken products and Pin this recipe on Pinterest to save for later.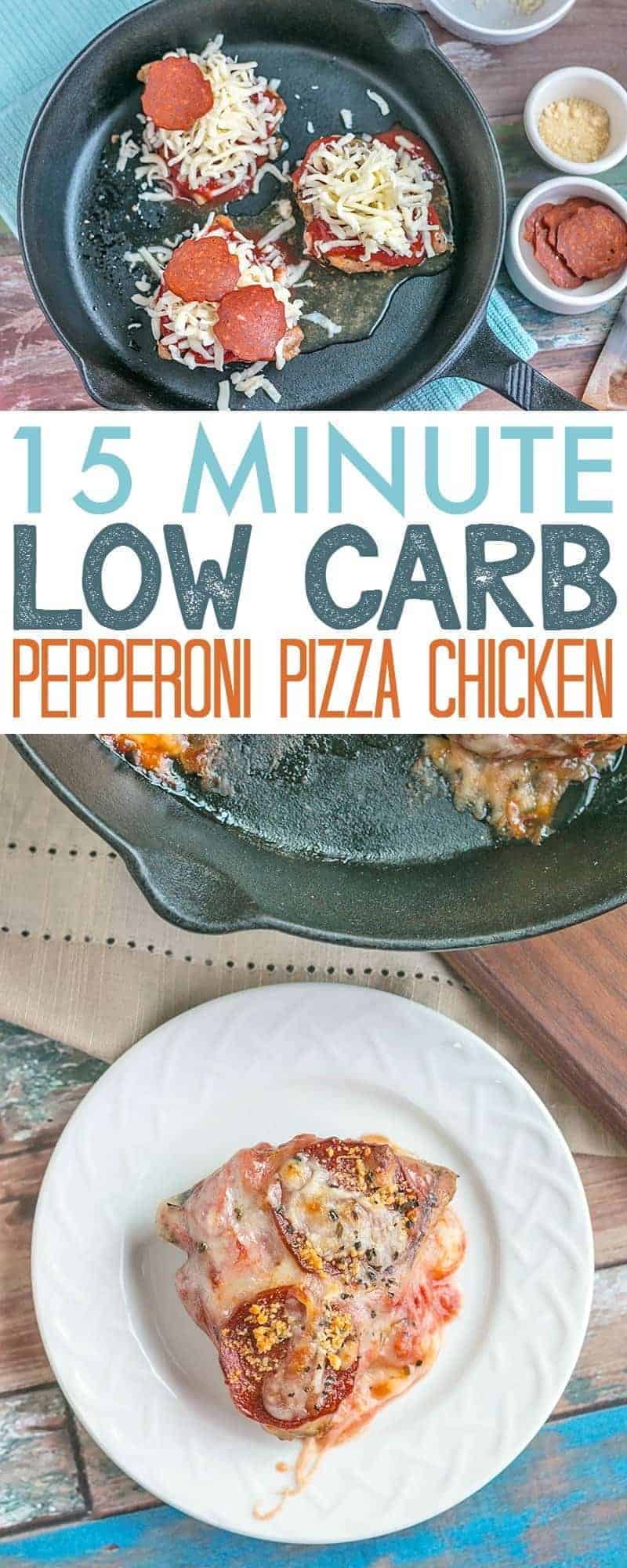 15 Minute Low Carb Pepperoni Pizza Chicken
Print
Rate
Prep Time:
1
hour
12
minutes
Cook Time:
1
hour
12
minutes
Ingredients
3 - 3

ounce

fully cooked chicken breasts

1/4

cup

tomato sauce

or pizza or pasta sauce but watch for added sugar

3/4

cup

shredded mozzarella cheese - divided in half

6-9

pieces

of sliced pepperoni

1/2

tbsp

grated Parmesan cheese

or more to taste

dried basil to taste
Instructions
Preheat oven to 373 degrees

Place chicken breasts in an ovenproof skillet or small casserole dish

Spoon tomato sauce evenly across the tops of the chicken

Sprinkle half of the mozzarella cheese over the sauce

Top with pepperoni

Add remaining mozzarella cheese

Sprinkle with Parmesan cheese and basil (if using)

Bake on center rack for 10 minutes, then raise rack to top position and broil on hi for 2 minutes or until browned. Optionally you can just back for 12 minutes.
Information shown is an estimate and is for information only. 730 Sage Street is not responsible for the factual accuracy of any nutrition information, calculations or claims.