Indulge in the exquisite flavors of lobster with this collection of 15 pasta recipes. Discover a delightful fusion of succulent lobster meat and perfectly cooked pasta, showcasing the harmony of seafood and Italian cuisine.
From creamy bisques to zesty tomato sauces, these recipes will take your pasta dishes to new heights of culinary delight.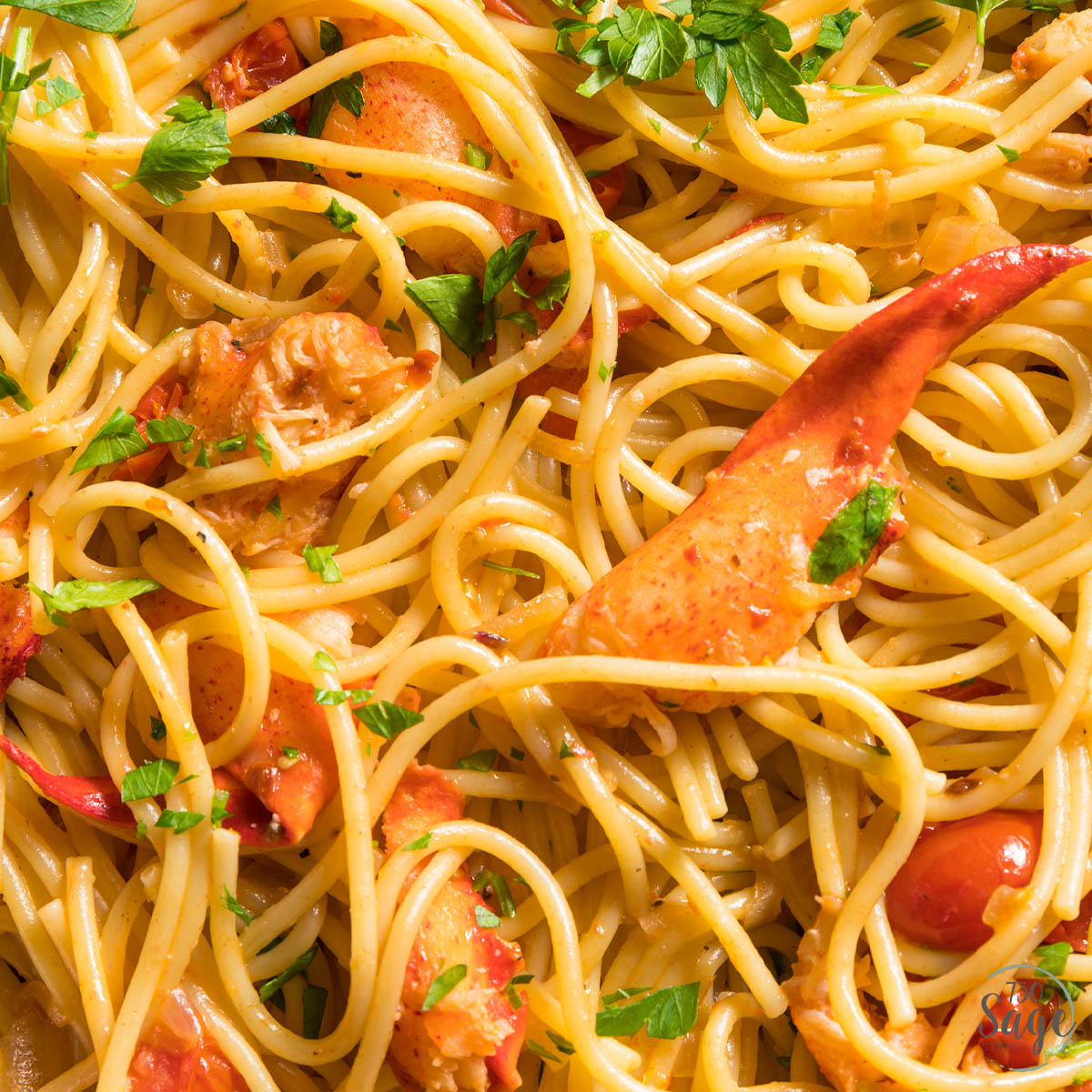 From the shores of Italy to your dinner table, savor 15 tantalizing pasta recipes infused with succulent lobster—culinary adventures await!
Step into a world of creamy, garlicky delight with this luscious lobster and pasta dish. From the savory notes of the white wine reduction to the bite of freshly minced garlic, each spoonful brings a symphony of flavors.
Let the gentle heat of chili flakes warm your palate while the succulent lobster chunks create a luxurious texture. So, why wait? Treat yourself to a hearty plate of this pasta and immerse yourself in its irresistible allure.
Travel to the vibrant coast of Maine with this rich lobster pasta recipe. The subtle sweetness of roasted red peppers combined with the tender lobster tails creates a dish that is as inviting as it is flavorsome.
Accents of garlic and fresh basil intertwine to give you a sublime dining experience. Add a sprinkle of parmesan and let the heartiness of this dish remind you of the comforting embrace of home-cooked meals.
Explore the essence of the ocean with this beautifully crafted lobster linguine. The delicate balance of zesty lemon, garlic, and chili flakes perfectly complements the succulent lobster meat.
The generous serving of parmesan cheese envelops the pasta with a rich creaminess, creating an enthralling dining journey. When served with a warm side of garlic bread, this dish will transport you to the idyllic seaside with every bite.
Revel in the decadence of this brown butter lobster ravioli. Each ravioli is a treasure chest of flavors, packed with the finest lobster and shrimp.
The robust tomato cream sauce, adorned with a dusting of parmesan, adds a delightful tang to the dish. Paired with a glass of your favorite wine, this pasta is the perfect centerpiece for a cozy evening.
Savor the classic taste of Alfredo sauce redefined with the addition of succulent lobster chunks in this enticing pasta dish. The velvety blend of heavy cream, butter, and two types of cheese creates a sauce that is as indulgent as it is comforting.
Top it off with a sprinkle of fresh parsley and a squeeze of lemon for a refreshing twist. A mouthful of this pasta is sure to be an exquisite culinary voyage.
Dive into a pot of Extra Creamy Lobster Mac and Cheese, a delightful melange of rich and savory flavors. With a blend of lobster meat and cheesy goodness, every bite feels like a luxurious treat.
The crunch from the breadcrumb topping contrasts perfectly with the creamy, molten cheese interior. With a hint of Old Bay Seasoning, this dish takes you on a culinary journey to the coast. Add a green salad on the side and you've got a meal that's sure to impress your loved ones.
If you're craving a dish that's vibrant, fresh, and tantalizing, the Spicy Lobster Spaghetti is your go-to choice. The tender lobster meat coupled with the kick of habanero chili will ignite a fiery dance in your mouth.
Enhanced by the aromatic freshness of mint leaves and the delightful tang of tomato sauce, this recipe is a perfect blend of oceanic and earthy flavors. Pour a glass of your favorite white wine and serve this for a romantic date night.
This Lobster Bacon Carbonara is a masterstroke of decadence, a delightful twist on the classic carbonara. This recipe, with the smoky lobster bacon, is an exotic marriage of flavors you wouldn't want to miss.
The smoky lobster, rich sauce, and tangy squeeze of lemon play together harmoniously in your mouth, while the sprinkled chives add a lovely dash of color and freshness. Pair it with a crisp Provence-style rosé for a heavenly experience.
Penne and Lobster with Vodka Sauce is your ticket to a luxurious dining experience. This recipe delivers a grand symphony of flavors, with buttery lobster chunks drenched in a spicy vodka-tomato sauce, wrapped lovingly in al dente penne pasta.
The sweetness of the peas adds a nice contrast to the fiery red pepper flakes. The generous dusting of Parmigiano Reggiano elevates the dish to another level. You'll find yourself reaching for seconds before you know it.
Embrace the seaside vibes with the delightful Maine Lobster Pesto Pasta. This dish is an orchestra of savory, creamy, and refreshing flavors. The succulent lobster meat, juicy cherry tomatoes, and fresh basil come together to create an enticing medley that dances in your mouth.
The crowning glory is the pesto sauce, lending a verdant color and a punchy flavor that ties everything together. Pair this with a chilled glass of your favorite white wine for a blissful mealtime.
Step into a world of spice and warmth, as you whip up this incredible Seafood Fra Diavolo. With a delightful mix of clams, oysters, shrimp, and succulent lobster tails, all enveloped in a heavenly white wine and crushed tomato sauce, you're in for an unforgettable meal.
The extra kick from the crushed red pepper truly brings it to life. It's a perfect match for a weekday dinner or a cozy weekend meal. Oh, and did I mention the fresh basil and parsley that top it all off? Simply divine!
Delight in the creaminess and zest of this luscious lemon-infused pasta with lobster. It's a symphony of Chardonnay-poached lobster tails, coupled with fettuccine, swimming in a velvety sauce of heavy cream, butter, and Parmesan.
The burst of lemon zest harmonizes with the richness of the sauce, promising a culinary experience to remember. Finally, garnish your masterpiece with fresh basil leaves for that extra special touch. Just wait until you serve it, the compliments will flow!
Whisk yourself away to the seaside with this superb Lobster & Scallop Pasta. Beautifully seared lobster tails and scallops meet the perfect bed of bucatini.
The flavor bouquet of fresh garlic, lemon, and thyme dances through a white wine sauce, tying together the essence of the sea and the warmth of the home kitchen. The finishing touch of fresh thyme on top truly elevates this dish. It's like a seaside vacation served on a plate!
Revel in the harmony of flavor and texture found in this Lobster Pasta with Creamy Garlic Sauce. This dish pairs succulent lobster with the comforting crunch of panko breadcrumbs, all amidst a creamy garlic sauce that's lusciously rich and satisfying.
The sprinkling of lemon zest and parsley over the golden breadcrumbs is a flavor-packed triumph. The indulgence of Pecorino Romano cheese brings a depth that leaves you longing for the next bite. This is pure pasta bliss.
Unleash the true potential of pasta with this exquisite Buttered Lobster Pasta. Diced shallot, garlic, and cherry tomatoes blend effortlessly with a white wine sauce to form the backbone of this dish. But the real star is the succulent lobster tail, cooked to perfection in a bath of butter and olive oil.
As you twirl the angel hair pasta, coated in a glossy, butter-infused sauce, you'll feel the warmth of a homemade meal in every bite. The finishing sprinkle of parsley and a squeeze of lemon makes it an unforgettable delight.
Can I use frozen lobster for these recipes?
Absolutely! Using frozen lobster for your pasta recipes is a convenient and accessible option. Frozen lobster meat is typically precooked and frozen at its freshest, ensuring quality. Thaw the lobster according to package instructions before incorporating it into your delicious pasta creations.
Can I substitute shrimp for lobster in these recipes?
Certainly! While lobster adds a unique flavor, shrimp can be a delicious substitute in your pasta recipes. Opt for large, succulent shrimp that can withstand the cooking process without becoming tough. The sweet and delicate taste of shrimp pairs well with pasta, providing a delightful alternative to lobster-infused dishes.