A low carb diet
can sometimes be challenging trying to come up with new and creative ways to enjoy your favorite high protein foods. There are a ton of amazing recipes available on the internet (a bunch of them are featured below), or you can get a low carb cookbook
too.
Eat Happy: Gluten Free, Grain Free, Low Carb Recipes Made from Real Foods For A Joyful Life
PRO TIP: My favorite low carb cookbook right now is called Eat Happy
by Anna Vocino. The recipes get rave reviews, and I know Anna has tried and retried these recipes to make them perfect so they actually work, taste great and look as good as they do in her pictures.
I especially love that she has low carb pizza crust recipes because pizza is my all time favorite! She also has recipes that use a spiralizer and some recipes that are traditional favorites but made low carb. There are desserts too!
If you want to learn more about Anna you can listen to her every week on the Vinnie Tortorich podcast. She's real and funny and really is trying to help people eat happy while giving up sugars and grains!
No diet can be successful without variety. And because eggs are a nearly perfect food, most low carb fanatics find that they eat a lot of them, so I was on a mission to make a list of some of my favorite low carb baked egg dishes, and I figured I'd share them with you.
Some of them are kid-friendly, some would make great appetizers, and some are filled with delicious vegetables making them super healthy options. You can make them as-is or change them up for your tastes or based on whatever ingredients you happen to have on hand.
You can get the recipes by visiting each link below (a few of them are even my own). Happy eating!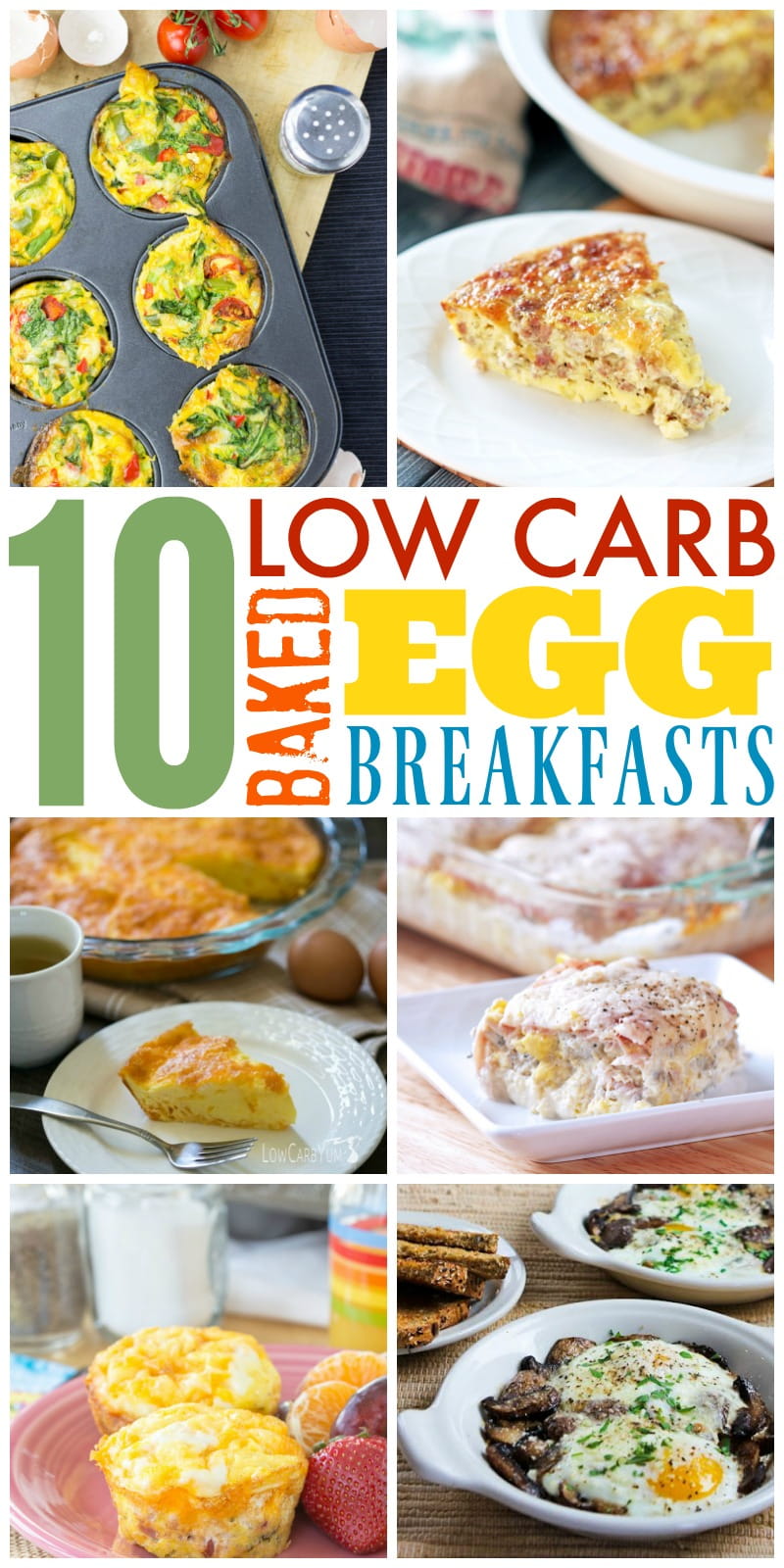 Simple and very kid friendly, this low carb egg casserole with sausage reheats well too. I made it in a ceramic pie pan
.
This recipe is delicious and super easy to make because you use deli meat as the base. I love using a cast iron pan
to bake in!
This recipe is an excellent way to make individual servings and would make a great appetizer as well as a breakfast. You can change these up by using other types of deli meat and different cheeses as well. Looks delicious! You can use a regular muffin pan
or pick up some cast iron muffin pans
. The cast iron ones tend to make bigger "muffins".
I love the idea of adding veggies to your breakfast and these muffin shaped cups are perfect for kids. I can't wait to try these. I wonder if they would work well in silicone cupcake liners
.
I love mushrooms and eggs seem like they would be the perfect compliment to them. What a creative and delicious looking dish!
How tasty does this look? Spinach adds flavor and depth to this egg breakfast.
This recipe turned out fantastic, and the addition of the sausage gravy makes it irresistible. It reheats very well too. I used a casserole dish
.
These are gorgeous as well as healthy and low carb. I bet they taste amazing too.
High fat and fluffy, this egg quiche is relatively simple and would make the perfect base for a delicious low carb sauce.
This one sounds weird because of the combination of blueberries and eggs, but it is quite tasty.
2dayShip Quilon Parchment Paper Baking Liner Sheets, Unbleached Brown , 12 X 16 Inches, 200 Count
PRO TIP: I love using unbleached parchment paper to keep things from sticking to pans, and to help make cleanup easier. Normally, the roll of parchment paper is kind of a pain because it never tears right. Well, I recently discovered these unbleached parchment paper sheet and they are fantastic! Super easy to grab and line my pans.
They come in different quantities, I like the 200 pack. Definitely make sure you get the unbleached ones, that way you don't have anything leeching into your food. Cleanup is a breeze using these and no more food sticking to the pan, yay!
For more great low carb recipes, make sure you follow my Low Carb Pinterest board.
Also, check out these great books for more low carb deliciousness!
Join our newsletter!
Subscribe to get updates and great stuff via email including subscriber-only goodies like free printables and giveaways.