There's no rule that says a homeschool parent has to teach every single subject at an expert level. I'm certainly not an expert at a lot of things. So, outsourcing is often the answer. To have someone else teach your student in their area of expertise is an excellent way for students to get the best possible education they can. Here are 10 ideas for outsourcing homeschool high school courses.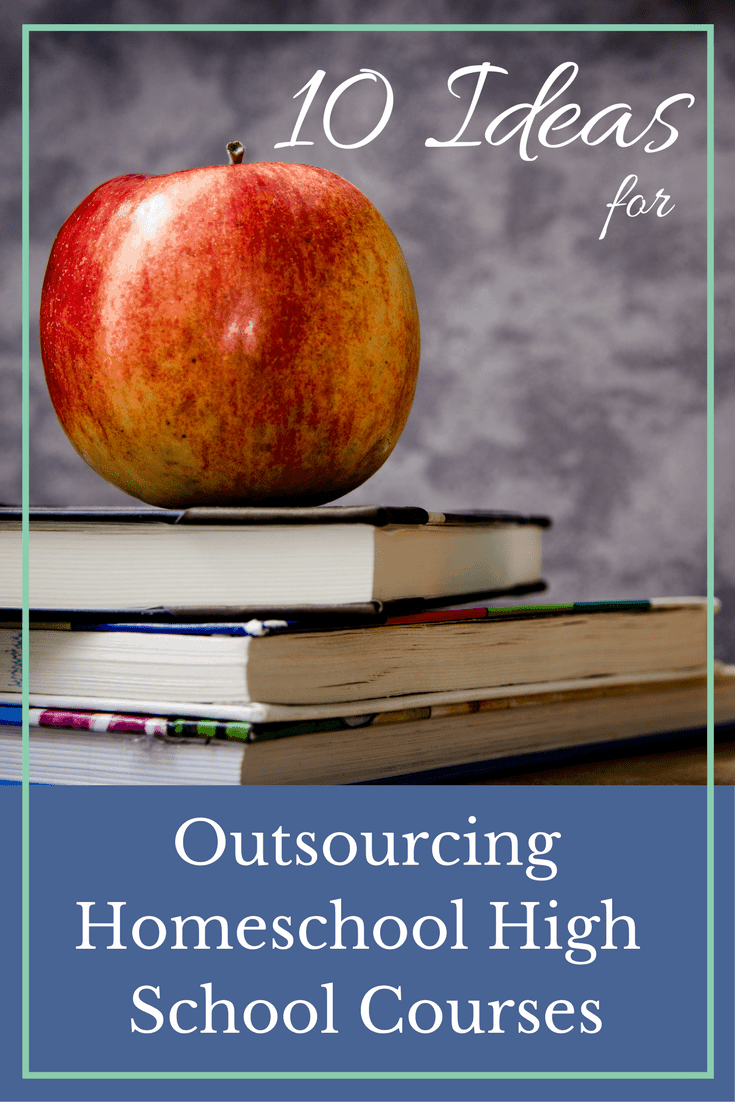 Outsourcing Homeschool High School  Courses – Local Options
This is one of the simplest options. Just ask for help. My strengths are the humanities – art, history, and literature, while my husband's are math and science. Think about the people in your life and their strengths. Then ask them to help, tutor, or mentor your student.
A homeschool co-op is a group of families that meet, usually once a week, for classes. Parents share teaching responsibilities, or hire teachers. Co-ops can run the gamut from purely social with "fun" classes (Creating with Duct Tape) to academically focused, rigorous, college prep classes. Classical Conversations is a highly regarded national network of Christian homeschool co-ops. Based on the trivium, CC co-ops have a full range of age levels, from pre-schoolers through high school. We're not in CC, but I hear great things about it.
Most areas have a homeschool Facebook group that keeps track of the local co-ops. Each co-op has a different vibe, so it might take some trial and error to find one you are comfortable with, but keep at it. Co-ops can help both you and your kids find your tribe. If you can't find a good local homeschool co-op, you can always start your own. Just gather a couple of friends and get started!
One on one tutoring is often the answer for some high school courses. Some students just do better with that kind of relationship. Working with a stranger can often motivate better than working with someone they know. Ask around for recommendations, and public schools often know of local tutors. Tutor.com is a good place to search, and Care.com also lists tutors if you can't find recommendations.
Community colleges are another excellent outsourcing option. Our local community college allows students as young as 14 to enroll in online courses. They can attend class at 14, but must be accompanied by an adult. At 16, they can begin attending by themselves. We've used community college for upper level science and math.
These might be classes that are not considered typical high school courses, but your homeschooler can certainly learn a lot from them. Life long learner programs are filled with these kinds of courses – knitting, arts, computer software and programming, cooking, nutrition, etc. Check out the classes at your local community center, park district, food co-op, 4H extension, and community college for some interesting options.
Outsourcing Homeschool High School  Courses – Online Options
Homeschoolers love Khan Academy, don't we? I'm always surprised at the number of topics covered by Khan. While it started as a math tutoring website, it now covers Science and Engineering (Physics, Biology, Chemistry, etc.), Computer Programming (including a joint class with Pixar), Arts & Humanities (History, Art History, Grammar), Economics & Finance (including Entrepreneurship), and Test Prep (SAT, MCAT, GMAT).
The Great Courses provides top level college lectures through videos and streaming. The service currently has over 630 courses, from Art to Physics, with a heavy emphasis on humanities. They also offer 30+ classes aimed at high school students. The courses can be very expensive (+$300), but they also have lots of sales so you might catch something at a more reasonable price. They also have a monthly, unlimited access, streaming service available on multiple platforms, that looks like a really good deal. $15 a month (if you go with the yearly plan), up to 10 devices and 5 concurrent streams on one membership. I see so many courses I would like to take – forget about the kids!
What the heck is a MOOC? A MOOC is a Massive Online Open Course. In these courses, students watch recorded videos, complete readings and may have a discussion component through an online course forum. Enrollment is open to all in a MOOC. Course schedules vary from set session dates to completely self paced. Yale, Stanford, Coursera, edX, and Alison are leading MOOC providers. We've used several of these providers for both a complete course (edX "Critical Thinking") and as a supplement to a course (Yale "Medieval History"). MOOC-list.com is a great starting place to find a course.
Online schools provide a "one-stop shopping" opportunity to outsource homeschool high school courses. Most offer a full range of high school courses with live classes. Take one class or several – it's up to you. While more expensive, this is a good option for many. The Well Trained Mind Academy, K12 and Laurel Springs are popular schools.
Students can take individual courses from the online schools mentioned above, or you can find freestanding courses. Derek Owens Math and Physics, Mr. D Math, My Homeschool Math Class, Pennsylvania Homeschoolers AP Online Classes, and Homeschool Spanish Academy are just a few sources for live individual courses.
So there you have it. A whole bunch of ideas to outsource homeschool high school courses. You don't have to be an expert in every subject, you just need to be an expert at finding what works for your student.
*Other than Homeschool Spanish Academy, I have not used these paid resources, so I am, in no way, endorsing them.
See the other posts in my Homeschooling High School – The Big Picture series: