In my last post, Homeschool High School Spanish with Homeschool Spanish Academy, I shared our experiences with the one on one tutoring service. Today, I'd like to share ten free homeschool high school Spanish resources that you can use to teach your student a foreign language.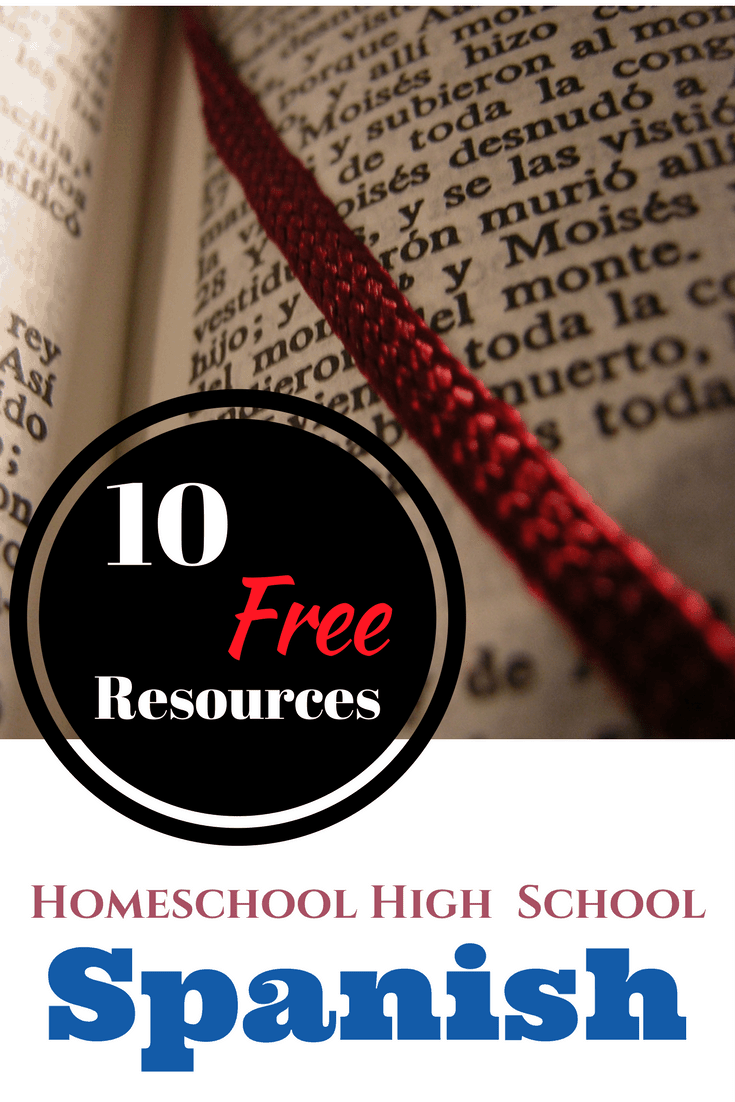 10 Free Homeschool High School Spanish Resources
Videos
Professor Jason Spanish – Professor Jason is a university professor, with over 80 videos on his YouTube channel. Videos are listed by level (Beginner, Intermediate, etc.) or by topic (pronouns, verbs, etc.), and are subtitled in English. Hearing the pronunciation and seeing the written word really helps to reinforce learning. With over 6.5 million views, Professor Jason is definitely the most popular Spanish learning channel.
Agustin Iruela – This is another popular YouTube channel, but it seems to be more for reviewing and listening to conversational Spanish, rather than learning like Professor Jason. The videos are kind of quirky – some are direct teaching and others are stock video with vocabulary added in Spanish and English subtitles. It's kind of like watching a video and someone is labeling everything in Spanish for you. As more of a vocabulary-based resource, I think it makes learning terms more interesting than other methods.
5 Minute Spanish – Available on iTunes, this video series is similar to Khan Academy with an instructor lecturing while writing on the screen. The instructor, David Nance, also has Spanish I, II, and II available on iTunes U.
MOOC's
AP Spanish Language and Culture  – is an intermediate course also offered by edX. The class is 10 weeks long, and taught completely in Spanish, as preparation for the AP Spanish Language and Culture test. The course is currently archived, but you can still view the lectures.
Apps
Duolingo – we use this app for my younger daughter's French curriculum, but I'm sure the Spanish version is just as good. The app uses a combination of vocabulary drills, listening and speaking exercises, and sentence construction to teach foreign language. We like the new feature of virtual texting best – the app will have a text conversation with the student. The app has a great sense of humor, and is very engaging.
Learn Spanish by Video Free – as the name implies, this app uses short videos (about 3 minutes) to teach Spanish. Each lesson contains a vocabulary list and a quiz. The app offers Beginner, Intermediate and Accents (different accents from around the world) sections.
Websites
StudySpanish.com – this website is similar to a textbook. Pronunciation (audio flashcards), grammar, vocabulary, and verb drills. I would use this as a review. Student membership is free, with an option to upgrade ($9.99/month).
123TeachMe.com – vocabulary based online video games, extensive verb list, and "Spanish courses" that feature specialized vocabulary (Survival Spanish – Asking and Giving Directions, for example) Lots of resources including printable worksheets, quizzes, and a Spanish 101 course are included. This site also has a membership upgrade option.
SpanishDict – dictionary, translator, conjugations, interactive flashcards, language guide (articles on vocabulary and grammar with audio clips for pronunciation), and an active Spanish language Q & A forum are all part of this site.
My Favorite
I saved my favorite for last. This website looks so interesting, I might do it on my own.
Mi Vida Loca – produced by the BBC, this "interactive video drama mystery" contains 22 episodes. The videos are shot from your point of view, and you are a character in the video. You travel from London to Madrid for vacation, and must negotiate life in a different country without knowing the language. It's like virtual immersion. Each episode is approximately 10 minutes long, has a transcript, and includes printouts for vocabulary. This site makes the others look rather dull, and I think it will capture the interest of teens.
And that finishes my 10 Free Homeschool High School Resources list. I would love to hear of any additions to the list.