When it comes to any kind of fitness activity away from home, nothing is more important than your gym bag, and what you put in it. It can mean the difference between a successful workout and one where you are left wishing you hadn't forgotten something essential. And potentially it can cause you to miss your workout altogether; which, if you managed to get up the motivation to head to the gym and then realized you didn't pack everything you needed, is just plain annoying.
Most of my workouts are done at home, or from home to where I don't need a gym bag. But at least once a week I do make a nearly 1 hour drive to the karate school for a lesson and to workout. Because it's such a distance, it's critical that I make sure I have everything I need in my bag. In general, I think packing a gym bag is fairly intuitive but I figured I'd give you a sneak peak into mine and show you the 10 things I never leave home without in my gym bag.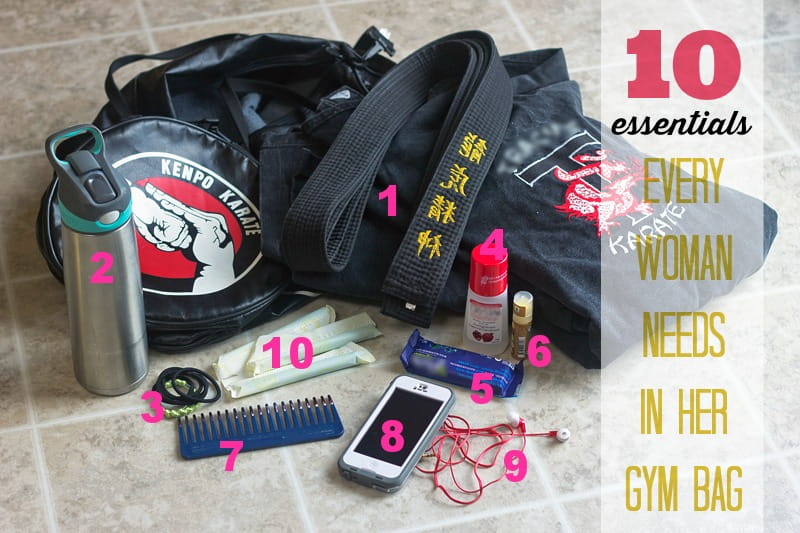 1. Gear
You need your gear. Whatever sport or activity it is that you are doing, you need clothing and other gear to do it. Don't forget that.
2. Water bottle
Water is like air when you are working out, you just can't do it without it.
3. Hair ties
I always carry a PILE of hair ties with me because they like to get lost, and no sweaty person wants their hair in their face while working out.
4. Deodorant
This is mostly for after. Or during. Be kind to your neighbor…and don't leave the gym without it on.
5. A healthy snack
It's good before or after your workout to help give you energy and replenish you.
6. Lip balm
I have found that when I sweat a lot, I end up with dry lips which can be super annoying while trying to work out.
7. Comb
Just in case you would like to look reasonably human after your workout.
8. Phone
Whether you are using apps, or just listening to music, I can't imagine a workout without my phone being involved.
9. Headphones
Because no, the whole world does not want to listen to your Hanson Greatest Hits CD.
10. Feminine hygiene products
As much as we would all like to deny ever needing these again, they are a fact of life and being caught without them at the gym would be quite uncomfortable and potentially embarrassing.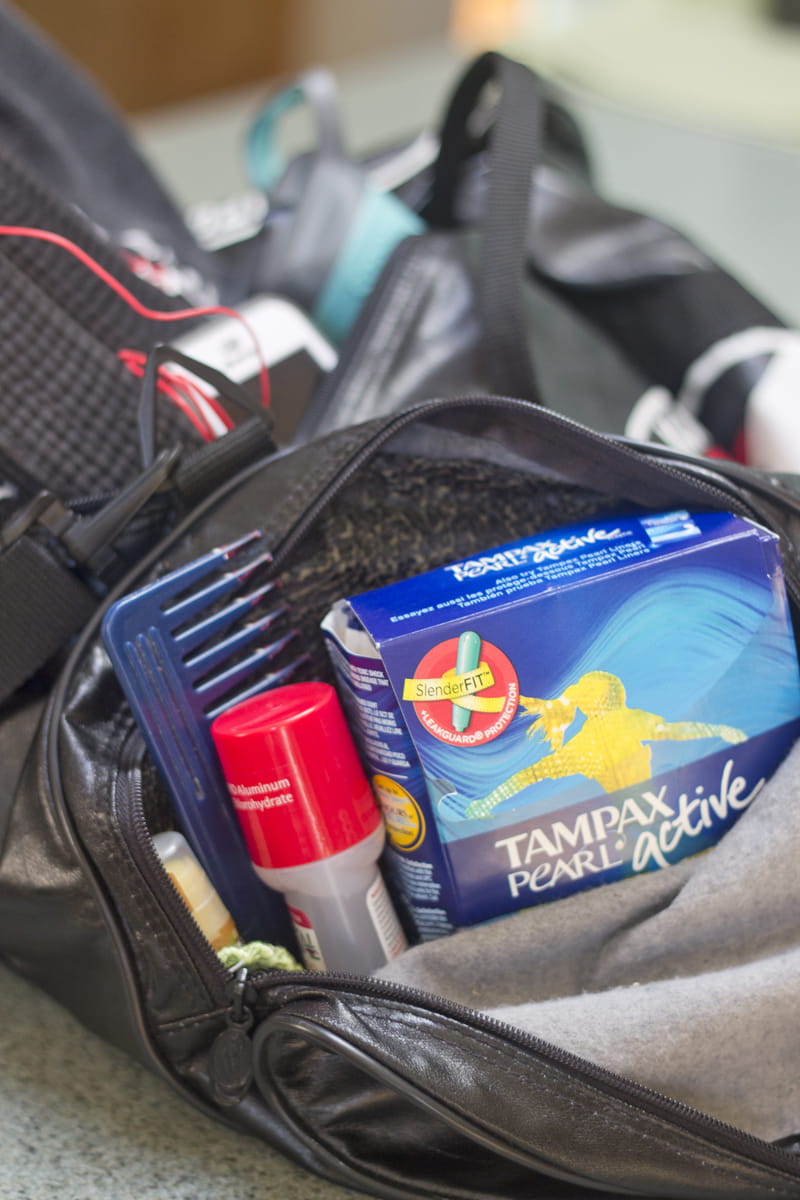 Tampax® Pearl® Active™ are perfect for your gym bag.
About Tampax® Pearl® Active™:
Our Slimmest Applicators: Pearl Active tampons are our slimmest regular absorbency tampons and our Lites tampons feature our slimmest applicator.

With our Best Pearl Protection: The Built-in Backup Braid™ and FormFit™ protection help stop leaks before they happen.
When you are working out you need comfortable protection that you can count on. Tampax® Pearl® Active™ are designed to be slim enough for the most active person, yet designed to protect from leaks. They are also perfect for teen athletes and anyone who hasn't found a tampon that is comfortable for them.
For more information about Tampax® Pearl® Active™ visit the following:
What's in your gym bag?
Disclosure: This #AwesomelyActive post was sponsored by Tampax® Pearl® Active™ through their partnership with POPSUGAR. While I was compensated by POPSUGAR, all opinions are my own.
Join our newsletter!
Subscribe to get updates and great stuff via email including subscriber-only goodies like free printables and giveaways.